If someone you love is expecting a baby during the winter timeframe, a Christmas themed baby shower might be the perfect way to celebrate the new arrival.  The holiday season is also a good time of year for family and friends, as they are already likely gathered in town from far-flung regions.
Here are our 5 favorite Christmas baby shower themes with some inspiration to help you celebrate the impending arrival. They include ideas for Christmas themed baby shower invitations, decor, food and more. The most important thing is to have fun and celebrate the new mom and dad's last silent nights.
Winter Wonderland Baby Shower
Winter Wonderland baby showers are a great theme for those cold winter months – and if you don't want your shower to be too closely associated with the Christmas holiday itself.  Plus nothing breaks up the winter blues like welcoming a new baby into the world.
Snowmen add a cute and whimsical look to a Winter Wonderland baby shower and are easy to find for decorations.  This diaper cake via Red Tricycle makes for a charming centerpiece and a useful gift for the mom-to-be after the festivities are over.
For a winter baby shower theme, dark colors highlighted by icy blue or pink are a perfect color pallet combined with lots of white snow decorations.  Paper snowflakes can be sewn together using a sewing machine and a long-running stitch (or purchased from the party supply store) to make dramatic streamers.  We've even seen amazing snow-like streamers created with cotton balls and marshmallows!
Santa Baby Brunch
For those wanting to embrace the Christmas theme, a Christmas Elf or Santa theme is perfect.  Share the magic of the holidays with guests in a Santa's Workshop baby shower.  Or create a Santa Baby Brunch!  All these ideas would be a festive and fun way to welcome little one.
Toys, candy and Santa's workshop decorations all are great for this baby shower theme. This Santa's Sweet Shoppe buffet and sign from The Gala Gals completes the look-and-feel of the theme and is made with styrofoam, ribbon and a bit of spray paint.
Dig out your best Christmas cookie recipes for this merry baby shower – or have guests bring a dozen of their favorite holiday treats and have a cookie exchange! Either way festive holiday fare in red and green will add to the theme and your decor.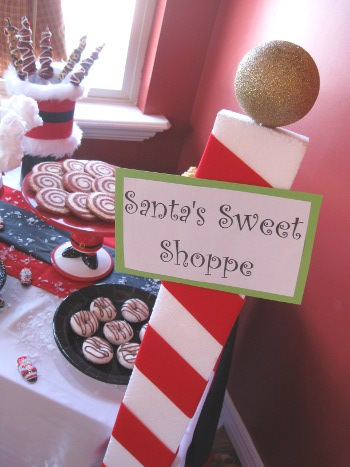 Ugly Sweater Baby Shower
This fun, Christmas tradition is a great theme for a baby shower.  Have everyone attend wearing, of course, an ugly Christmas sweater.  Make sure to use cute invitations with all the necessary details to set the tone for the shower.  The decorations for this party are the easiest of all.
Visit your local drugstore for lots of oh-so tacky decorations or ask for holiday rejects from your friends.  The more the better for an Ugly Christmas Sweater party!  These sweater cookies from Oliviascookies on Etsy would be a yummy treat in keeping with the theme.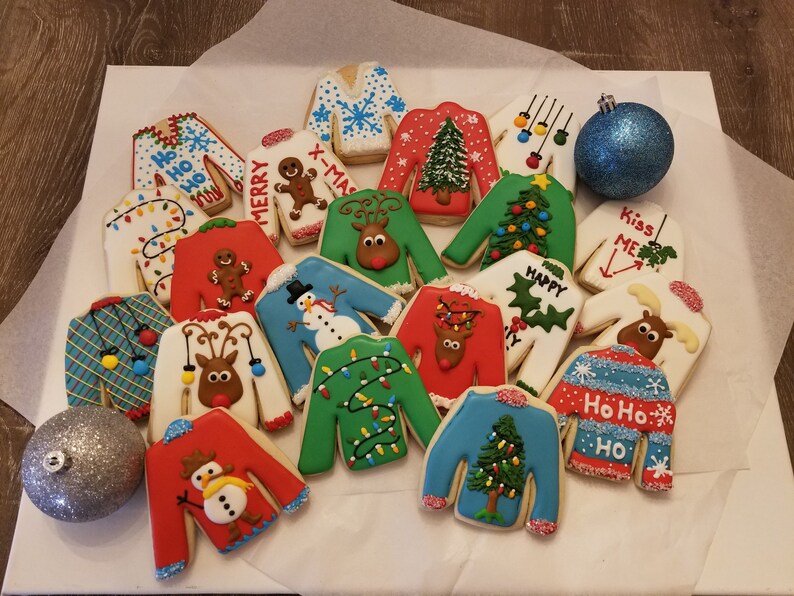 The DIY giant Christmas lights from Living Locurto are easy to make with green painted cups, Light Up balloons found at Walmart or Amazon, and curling ribbon.  They would be perfect decorations for an over-the-top ugly Christmas sweater baby shower party. Use some clever Christmas baby shower games to entertain guests make sure to crown the winner of the best ugly sweater with an award or prize.
A photo booth at an ugly sweater baby shower is also a great idea to capture those awful sweaters and big smiles.
Gender Reveal Christmas Themed Baby Shower
Gender reveal parties don't have to take a holiday during the Christmas season.  There are many fun gender-reveal Christmas shower themes that will be jolly and nice for you and your guests.  Here are some of our favorites:
Buck or Doe – Soon We Will Know
He or She – Open (the present) to See
Tis the Season of Joy – Will it Bring a Girl or Boy?
A Tie or Pearls – Will Santa Bring a Boy or Girl?
At a gender reveal party, oftentimes the surprise is hidden in a cake. This cake topper from SugarBeeEtching on Etsy is a stylish way to reveal the news or a fondant-iced cake decorated like a present is fitting too.
Your normal holiday decor blends beautifully into this Christmas-themed baby shower. So, no need to go crazy on the decorations for this Christmas themed baby shower.
Elegant Christmas Themed Baby Shower
Sometimes it's nice to forget the shiny, over-the-top decorations of the holiday season and go with a more sophisticated look in neutral or natural tones.  The beauty of this theme is that it works at virtually every venue.  Organic decorations of twigs, berries and branches make it warm and stylish at the same time.
To complete the look think of colors of muted greens, rich reds, beiges, and browns — combined with textures such as burlap, wood, and felt.  Take advantage of nature's bounty and decorate with fir and pine found in your backyard or neighborhood.
Food and desserts can be small gourmet bites without being overtly Christmas or contrived such as this stunning buffet via Two Little Birds Plan.
Of all the Christmas baby shower themes, which is your favorite? We hope you are inspired by our Christmas baby shower ideas and have a fabulous celebration.
(Visited 4,843 times, 1 visits today)