Becoming a mom brings forth a wide range of emotions – joy, excitement, anxiety, and anticipation, to name a few. To help expectant mothers process their emotions, ease into their new lifestyle, and celebrate the miracle of motherhood, PurpleTrail has released our Mom-To-Be Planner & Keepsake Journal. This pregnancy planner is designed to educate and comfort new mothers, providing them a space to get in touch with their feelings and learn more about their bodies, all while staying organized during the hectic ups and downs of pregnancy. Along with its informative, convenient planner & journal pages, the PurpleTrail Mom-To-Be Keepsake also acts as a scrapbook, in which expectant mothers can paste photos, log baby's growth, and commemorate milestones – doubling as both a useful tool and cherished memento.
Features
From checklists and handy tips, to nursery design and party planning, PurpleTrail's pregnancy planner has every mom-to-be covered. Stay on top of pre and postnatal appointments and have fun logging your weekly moods with its array of tracker pages.
Use the list pages to organize important contacts, with spaces for OB-GYN, general practitioner, medical insurance company, and more. Declutter by creating organized shopping lists for groceries, maternity clothes, or any items still missing after the baby shower.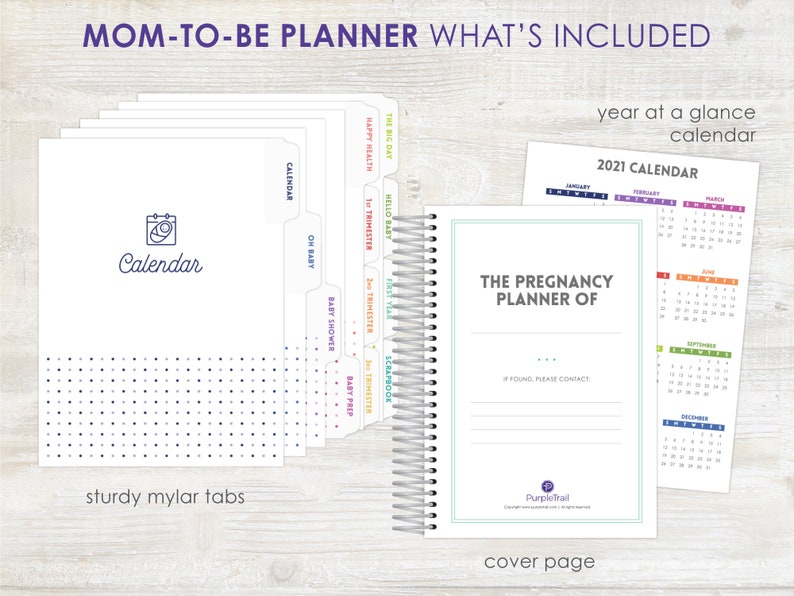 The PurpleTrail Mom-To-Be Planner also includes checklists for all stages of your pregnancy. Be prepared for baby's arrival and take note of any essential items with the "early stages" checklist. Then, make sure you're ready for delivery with the "big day" checklist. Once baby arrives, enjoy marking off any big milestone moments throughout their first year, such as "first laugh and smile" and "first wave goodbye."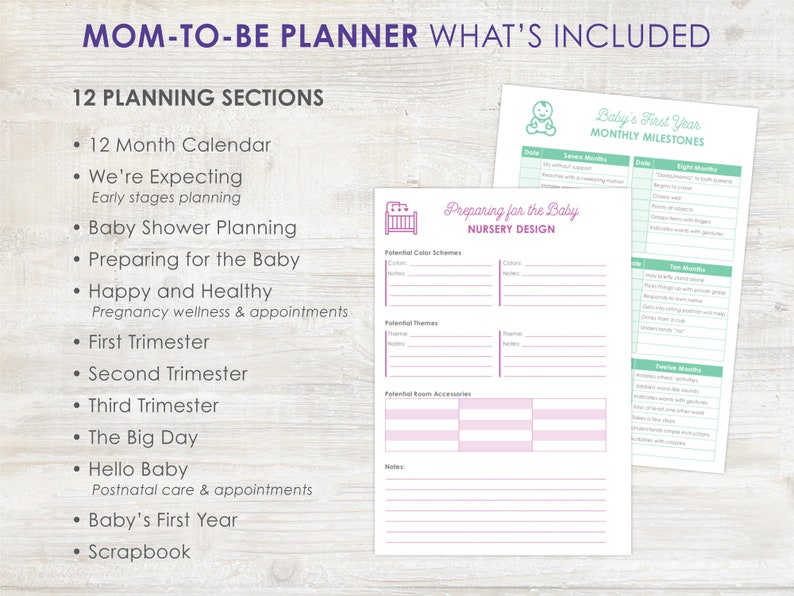 Tap into your creative side with the nursery, baby shower, and first birthday planning pages. Each one contains spaces for sketches and categorized lists, as well as tips and examples to spark inspiration. 
Not only does the PurpleTrail Mom-To-Be Planner act as a functional organizational tool, it also includes helpful information, such as overviews of what to expect during each trimester of pregnancy.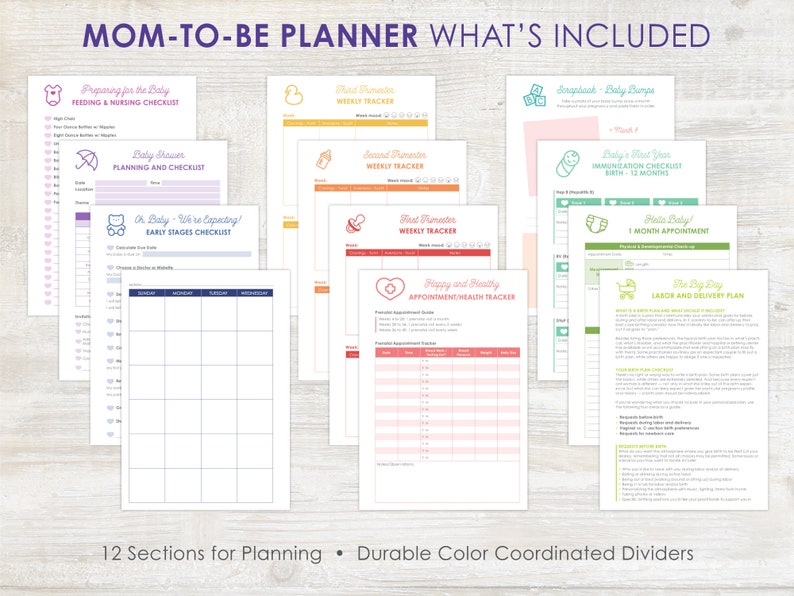 Turn the PurpleTrail Mom-To-Be-Planner into a beloved keepsake. With its numerous themed scrapbook pages – such as a baby bump progress chart, family tree, time capsule, and baby's first birthday – you'll want to revisit and share these moments with friends and family for years to come.
Additional items such as matching bookmarks and stickers will make your pregnancy planner extra cute and fun to use.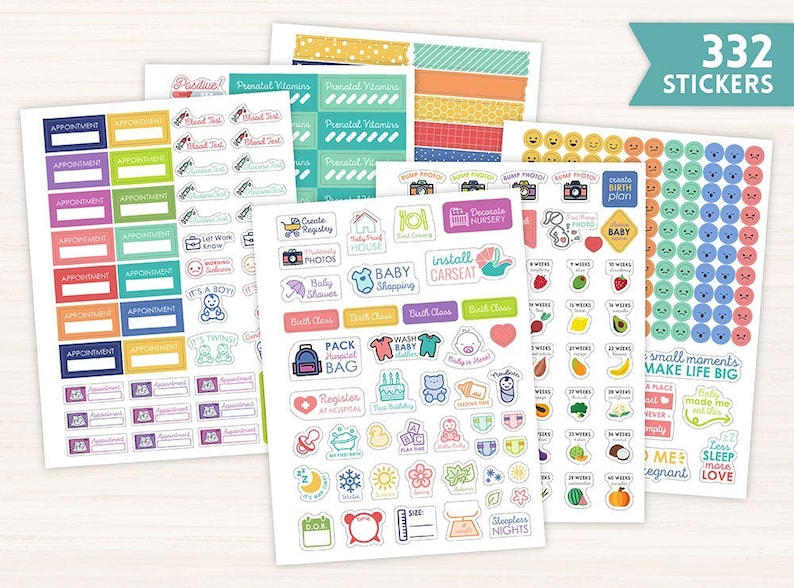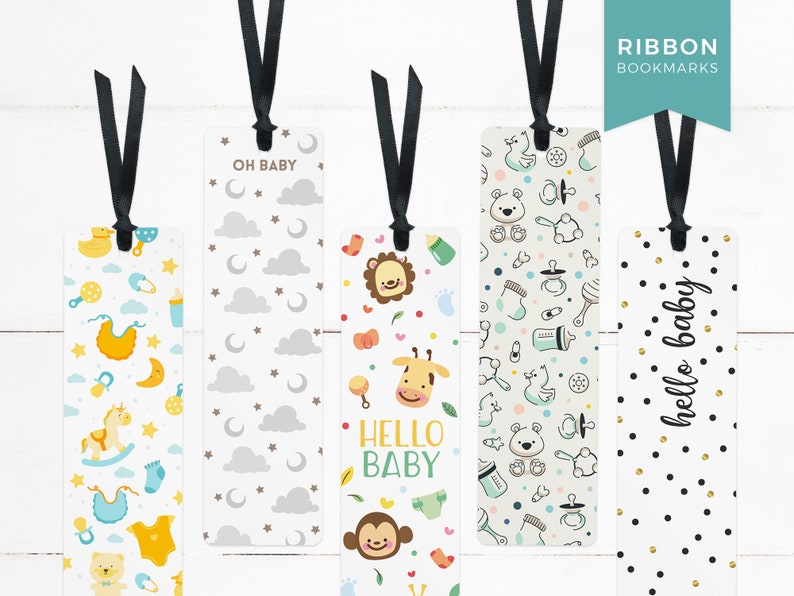 Customizations
As always, the PurpleTrail Mom-To-Be-Planner & Keepsake Journal is completely customizable, from cover design, to page color, to additional tabbed add-on sections.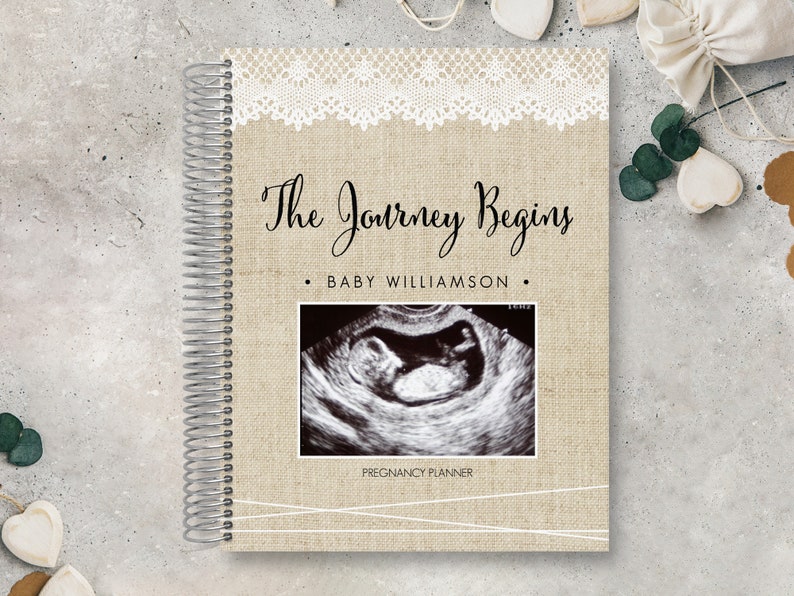 For a coiled planner, pick between our 3 cover types – synthetic, laminate, or hard cover. We also offer our pregnancy planners as an upscale sewn-bound book, with a durable hard cover and attached ribbon bookmark for easy navigation. Both available in 6"x8" and 8.5"x11" sizes. Create a cover design all your own with customized text, photos, and artwork. Or pick from one of our many exclusive mom-to-be cover designs.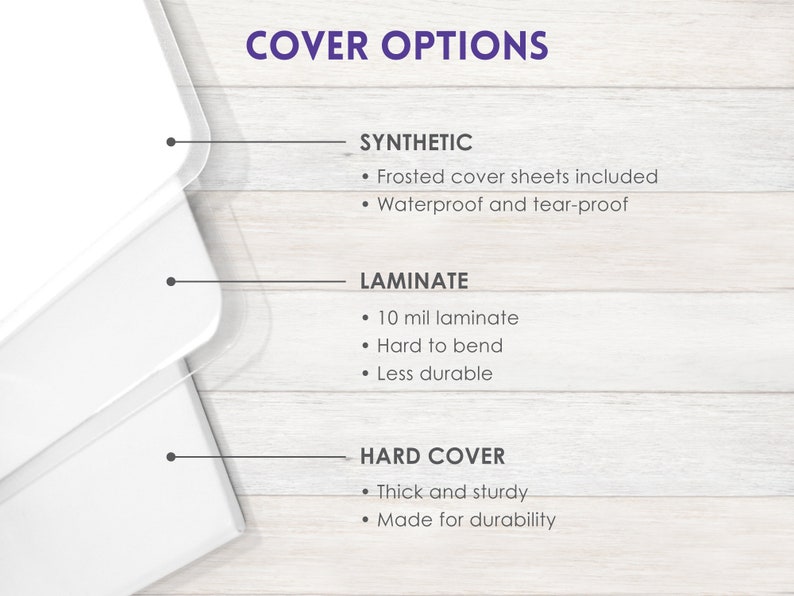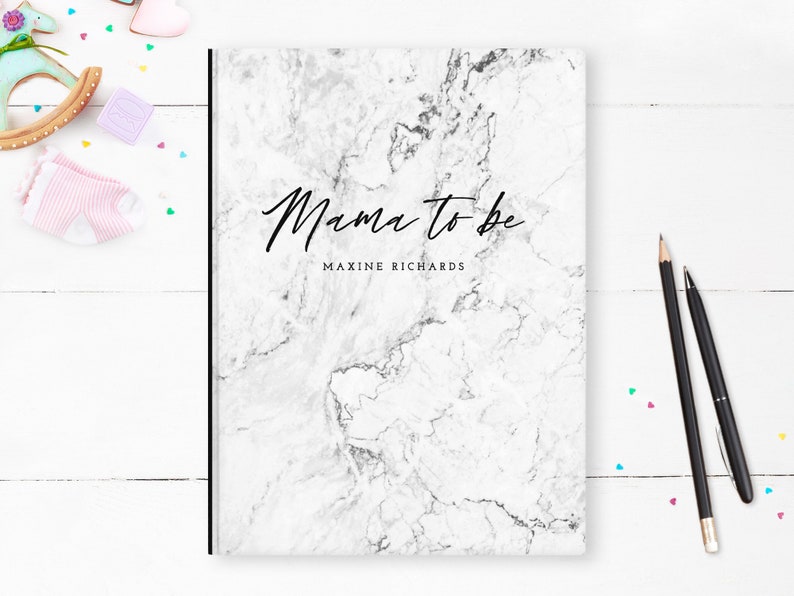 Each pregnancy planner comes with a 12 month calendar spread, with your choice of start month. Alternatively, the 12 month calendar can be left blank – perfect for couples who have yet to conceive or for those who like to doodle! Choose between our vibrant colored inside pages or classic neutral grey to perfectly match your style.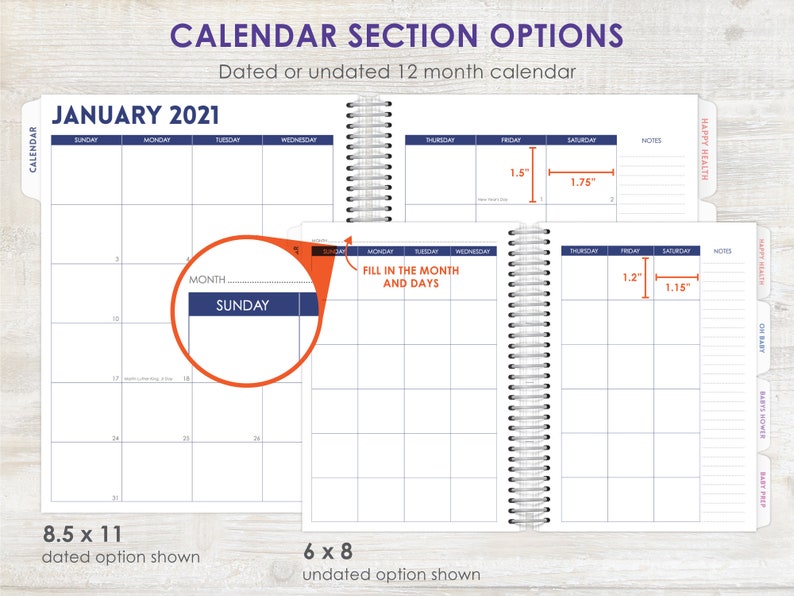 PurpleTrail offers numerous add-on pages, from accounts and bills trackers, to travel itineraries and reading logs. Include up to 4 add-ons in your pregnancy planner so it fits your unique needs! Keeping track of receipts, pamphlets, and ultrasound photos? Boost your planner's functionality with the addition of a double-sided pocket folder!
When baby is right around the corner, the PurpleTrail Mom-To-Be-Planner & Keepsake Journal is there for all your organizational and scrapbooking needs. Enjoy documenting your journey to motherhood in a high-quality, built-to-last journal. Our pregnancy planner also makes a great gift, especially when paired with a matching bookmark, sticker sheets, and pen set. When you or someone you know is ready to become a parent, the PurpleTrail Mom-To-Be Planner makes for the ideal pregnancy preparation tool and diary.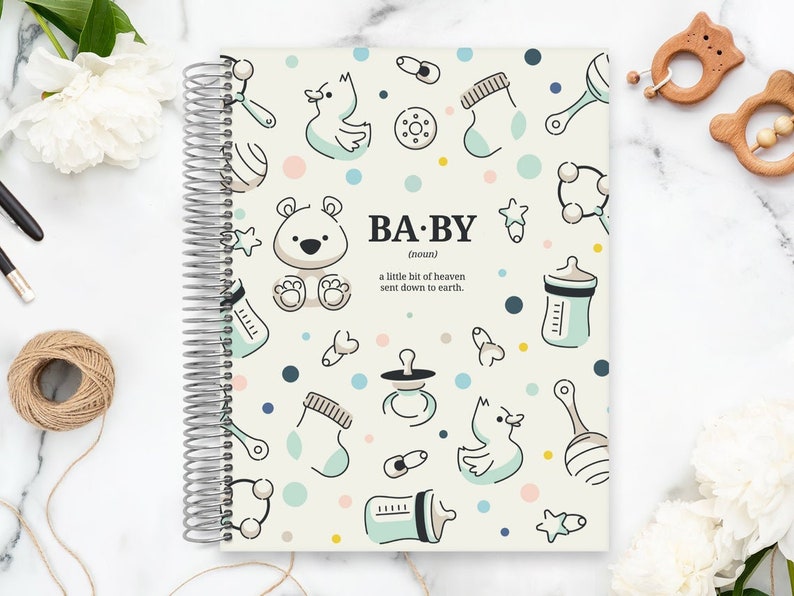 Planning a baby shower? Click here to browse our collection of baby shower guest books!
(Visited 49 times, 1 visits today)