If your partner recently popped the question (and you said yes!), then you are going to need perfect save the date cards to share your exciting news, and the date of your wedding, with friends and family. Let one of these gorgeous new designs from PurpleTrail relay your big news. Enjoy picking through this list of new designs; and after you find one you love, use the save the date wording suggestions below to fill your wedding announcement with a truly eloquent message.
Simple Save the Date Wording
Save the Date
March 15th, 2015
Emma & Christopher
************************
What started with a kiss
Now has come to this
Jason and Melody
Are getting married
5/5/2015
***********************
It's a date to remember
03/03/2015
Seth and Barb
are
Tying the knot
He proposed … She said yes!
Beth and John are getting married
04/04/2015
Save the Date
*********************
To have and to hold
From this day forward
04/08/2015
Larry and Susan will be wed
Save the date
***********************
He Asked
She Answered
Now They Are Tying knot
03/01/2015
Save the Date
Kathy and Ken
Have set the date
05/07/2015
So please make note
And don't be late
*****************
We're goin' to the chapel
and
We're goin' to get married
03/12/2015
Funny Save the Date Wording
Love is in the air
Mary & Bill
Are Getting Married
4/14/2015
Free Cake!
04/07/2015
Jen and Ben are getting hitched!
************************
Martha and Ted
Are riding down the aisle
4/4/2015
Save the Date
See what happens when geeks marry
03/03/2015
Carol and Bob
Save the Date
*******************
Wood you come to our wedding?
02/04/2015
Brenda and Todd
First came love
Now comes marriage
Martha and Greg are getting hitched
05/06/2015
Save the Date
Destination Wedding Save the Date Wording
Come fly with us, come fly, let's fly away!
Mary and Mark are taking the plunge in Honolulu, HI
12/1/2015
Save The Date
***************************
It's a winning combination
Jack and Jill
are making it legal
3/10/2015
in Las Vagas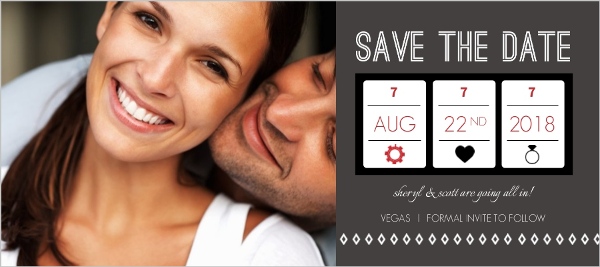 We're taking the gamble of a life time
06/07/2015
John and Beth are getting married
In Las Vegas
Save the Date
*************************
It will be love on the slopes
12/1/2015
Lisa and Ben
Will tie the knot in
Aspen, Colorado
Save the Date
**********************
12/1/2015
Larry and Lyn
Will Drop the Anchor
In Tortuga, Haiti
Save the Date
Save the Date
For Our Destination Wedding
07/08/2015
In Cancun, Mexico
Kelly and Martin
Good Luck!
Hopefully these new save the date invitation designs and wording suggestions help you share your great news with friends and family. Remember to send your save the dates out four to six months prior to your wedding. And, if you're having a destination wedding, notify friends and family at least a year in advance. For more fabulous wedding ideas, take look at these nifty wedding tips. Good luck planning for your big day and congratulations!
(Visited 1,794 times, 1 visits today)