No two people have the same life – priorities, schedules, hobbies, and relationships all differ from person to person. Here at PurpleTrail, we celebrate everyone's unique needs, lifestyles, and tastes by providing the most customizable planners on the market. In true PurpleTrail fashion, we've taken the ability to personalize your planner to the next level with our all new Custom Planner Pages – your ideal planner pages to fit your one of a kind lifestyle. Match your personalized cover with colorful, fun inside pages adorned with artwork by our graphic designers, or focus on functionality by devising the perfect layout for lists, schedules, doodles – anything your planner should have. The possibilities are truly endless with PurpleTrail's Custom Planner Pages! 
Get Creative
From plant moms, to wannabe wizards, there's a custom inside page for you! Have fun finding a page layout that represents your favorite hobby or fandom.
Our graphic designers are inspired by an array of trends and art styles, providing you with an impressive selection of motifs to choose from.
Ranging from cute kitties to hip crystals, sleek black & white lines to celestial pastels, you'll find the perfect page design to edit and make your own.
Add more artwork furnished by the Design Center, rearrange what's already there, or keep it exactly as is. Then, pick between colorful or neutral gray headings and tabs to give your planner a complete, cohesive look.
Functionality
The PurpleTrail Custom Planner Pages come in an extremely wide variety of layouts, all designed for different needs and preferences in mind. Even pick the start month and length of your planner to perfectly fit your lifestyle! 
Starting school? Check out our selection of academic themed pages.
Hectic family life? Choose one of our family-oriented layouts to keep track of kids, pets, chores, and more.
Juggling between an overloaded work schedule and a busy personal life? Consider customizing a "work & life" layout to fit your specific needs.
No matter the initial design chosen, the pages can be customized to your liking. Create spaces for inspirational quotes, daily doodles, shopping lists, reminders, appointments – the choice is yours!
Your Schedule
With PurpleTrail's Custom Planner Pages, you can create a planner that performs around your unique schedule. Does your work week start on Tuesday? Change the day your weekly pages start to reflect your personal routine. Don't need much space for weekends? Condense Saturday and Sunday into one section while creating room for something more useful to you.
Rather have a spread of just one or two days instead of an entire week? Pick from either the 1 page per day  or the 2 page per day layout, which provide optimal space to write your detailed daily agenda (available in 3 or 6 month ranges); order daily pages across 2 to 4 matching planners to create a year's worth of pages without giving up space.
Even choose between three options for date display, so you can easily comprehend your planner quickly and efficiently.
What's Included
Get all the features of a classic PurpleTrail planner, now with customized pages!
Choose between our 6″x8″ and 8.5″x11″ sizes, then pick and personalize a cover from our ever-growing selection of designs. Coiled planners are offered in three types of cover material – synthetic with frost sheet, 10 mil laminate, and made to last hard cover.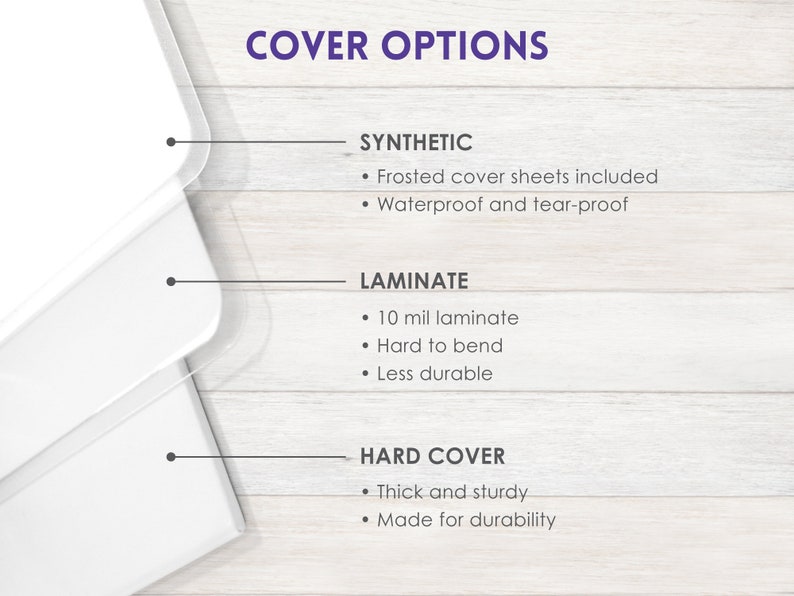 We even offer our custom planner pages in high-end, durable sewn-bound planners.
Just like planners with our traditional pages, planners with custom inside pages include a title page and list of holidays at the start. Each month of a coiled planner is behind its own sturdy tab and starts off with an overview page, providing space to list important dates and notes, followed by a two page calendar spread. Add up to four add-on sections to your coiled planner, as well as a double-sided pocket folder, to boost your planner's functionality!
With PurpleTrail's Custom Planner Pages, there's no need to sacrifice style or performance. Create a super cute, super convenient planner that you'll love to use. Have fun designing personalized pages, then watch your stress disappear the more you use your planner –  you'll feel more organized in no time with a planner made just for you! Add stickers, bookmarks, and other accessories to your personalized planning routine for even more effective ways to coordinate and organize. No matter the lifestyle, the perfect planner does exist – thanks to PurpleTrail's Custom Planner Pages!
Click here to browse our selection of customizable planner pages!
(Visited 447 times, 1 visits today)