One of the absolute best things about a PurpleTrail planner is how many ways you can customize it to meet your planning needs.  With more than 30 add-on options, the PurpleTrail planner can help you plan your workdays, home life or a combination of it all. Each of these helpful sections are a robust 12 sheets/24 pages of 80 lb. paper and come with a coordinating tab divider page to make access easy.
Up to 4 add-on sections can be included in a PurpleTrail coil bound planner (unless choosing a length of 18 months with weekly pages, limited to 3 add-ons due to size).  The coil size for your planner will vary depending on the quantity and size of your add-ons. For our sewn bound planners, you can choose up to 2 or 4 add-on sections.
Here's a brief overview of some of our add-on options.  Pick the ones that are right for you!
Graph Paper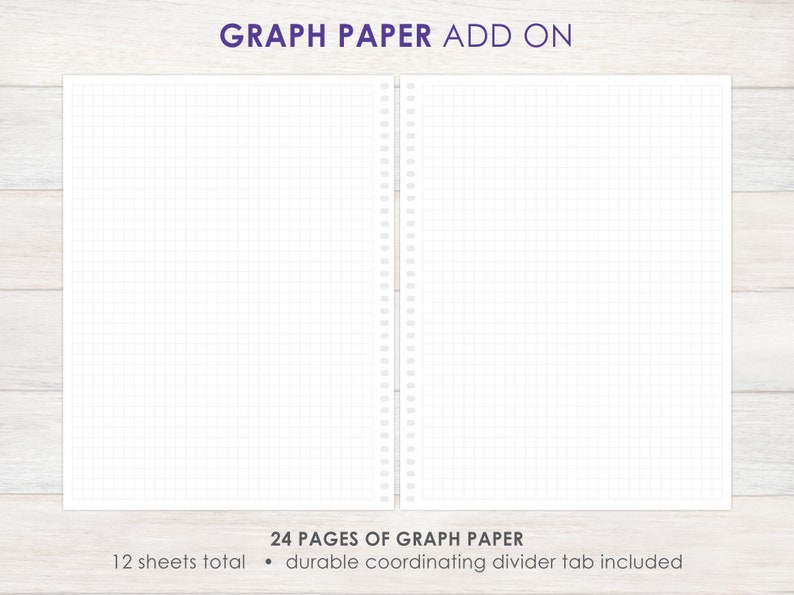 If you're a list maker or a note taker, here's a great add on for you — 12 sheets of 80 lb., double-sided graph paper for you to journal or jot.
Notes Pape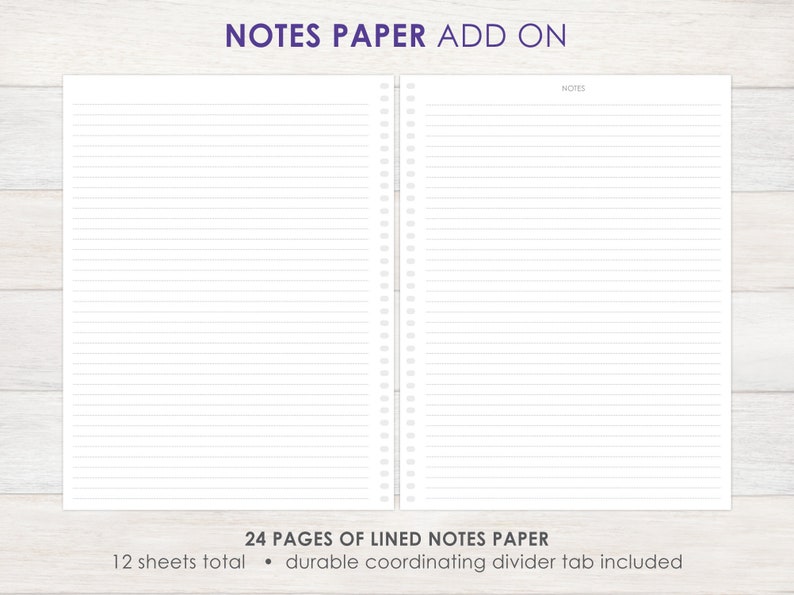 Whether you're journaling or doodling, these pages are a must-have for someone who needs a little extra note space on-the-go.  12 sheets of lined note paper with smart, coordinating tabbed page.
Dotted Grid Paper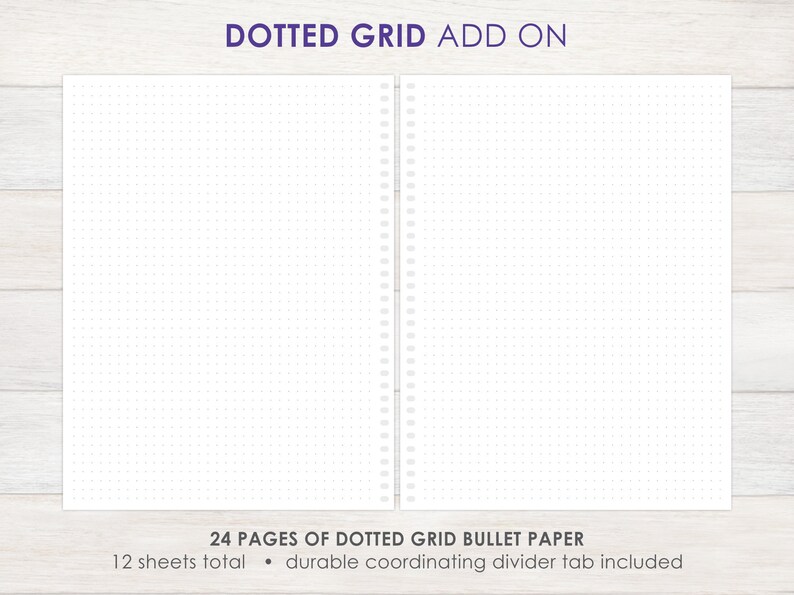 If you're into bullet journaling, or just want the flexibility of using a dotted grid paper however you want, this is the add-on for you.
Address Book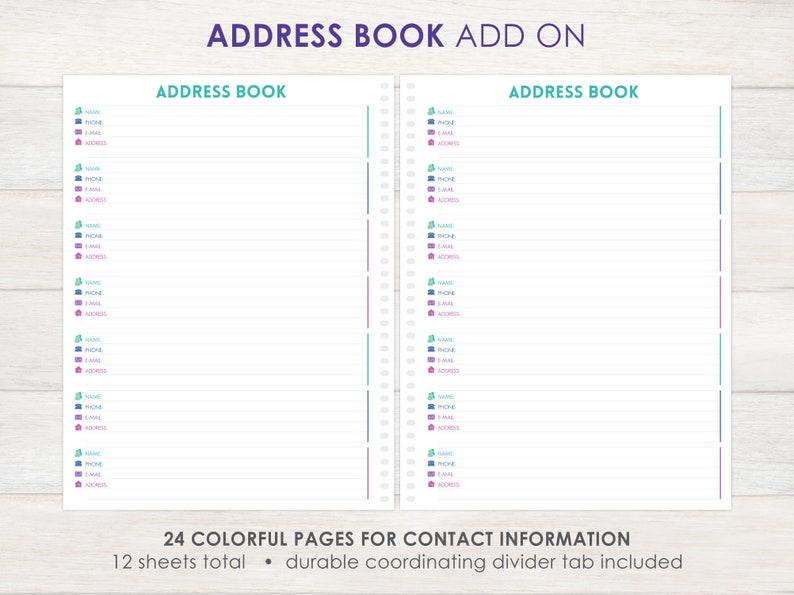 Keep all the contact information for the important people in your life in one place with our add-on address book section.  You can include names, addresses, emails, as well as extra space for important information such as birthdays and anniversaries.
Check List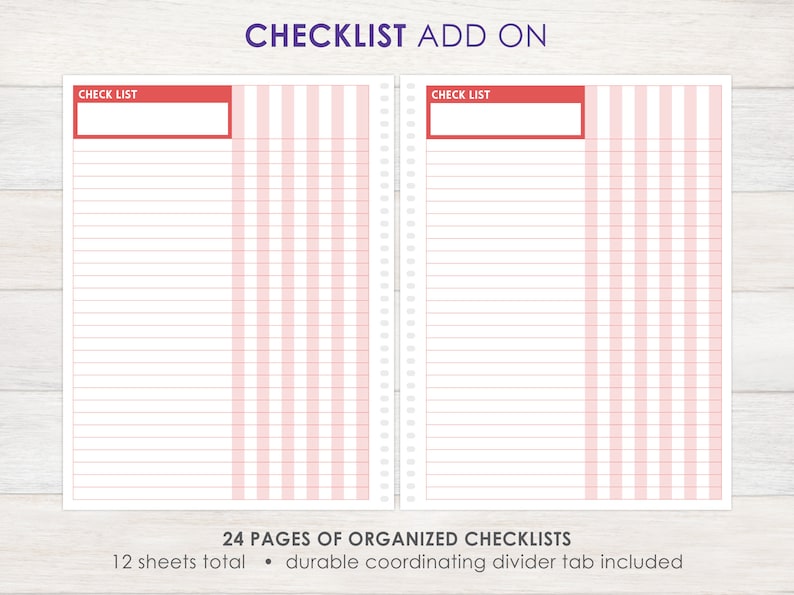 A must have add-on for those who love to check off items and feel productive.  The check list section is perfect for grocery lists, work lists, to-do lists, laundry lists, Christmas lists and more.
Monthly Fitness Tracker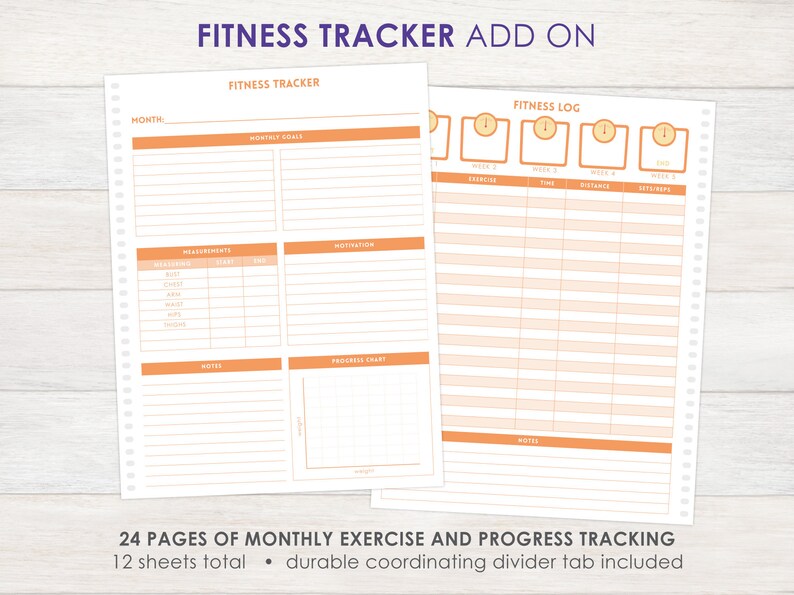 Anyone who is training or just trying to stay healthy will love our two-page spread, monthly fitness tracker.  It includes room for month of the year, monthly fitness goals, measurements, motivation, an area for notes, a progress chart and a weekly fitness log with areas to track exercise date, exercise type, time, distance and sets/reps.
Password List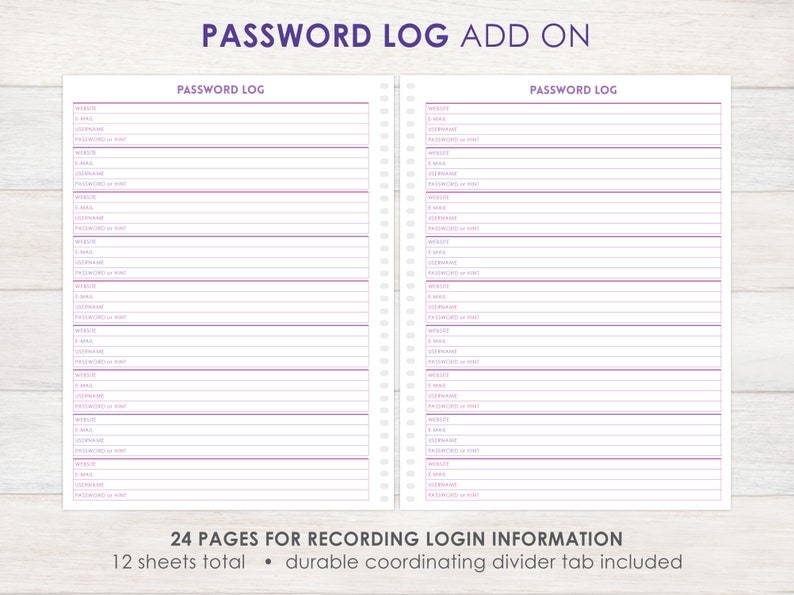 Always forgetting those pesky passwords?  Here's a password log for you!  Safely keep track of passwords with room for remembering website urls, emails, logins and usernames, passwords and pins.
To Do List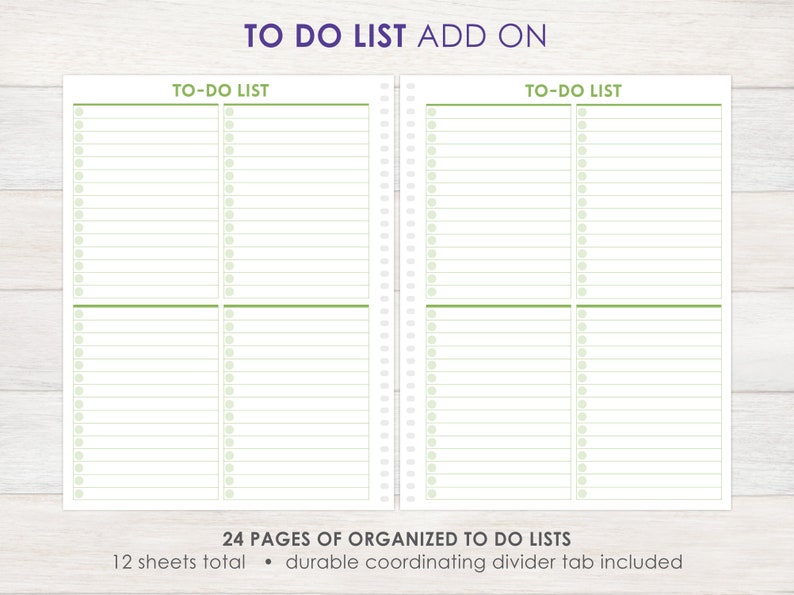 If a checklist is not your thing, this quadrant of to-do lists will likely do the trick.  With room to label each section, you'll feel organized and in control when you cross something off.
Bill Tracker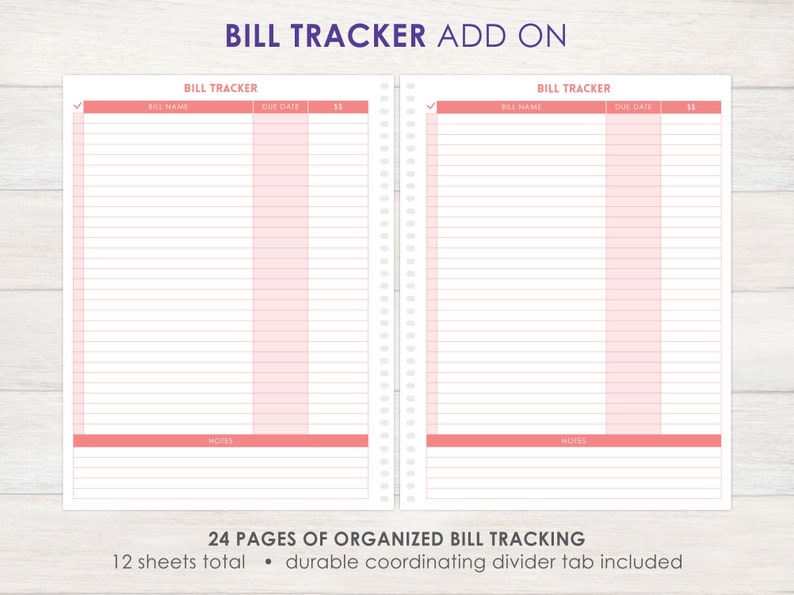 Banish late payments with this convenient bill tracker to write down due dates, notes and payment information.  Your credit score will thank you!
Medical Appointment Tracker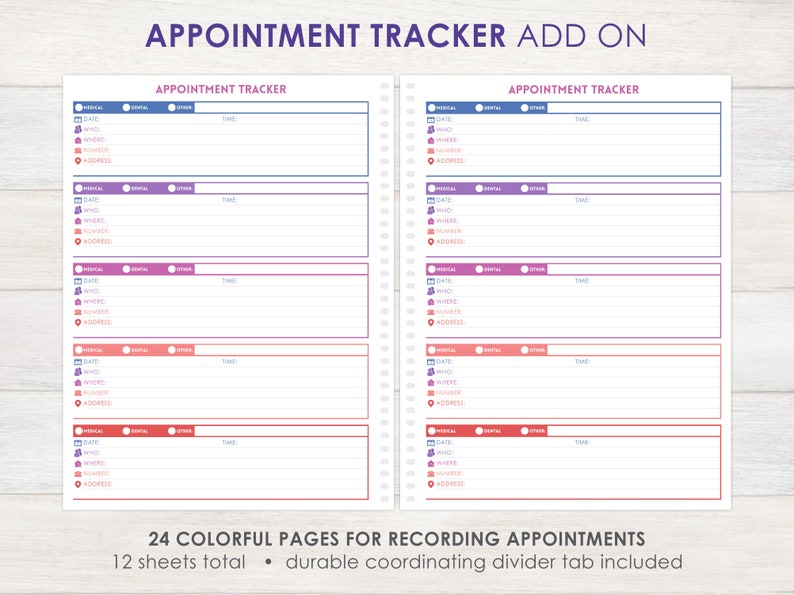 Designed for doctor and dentist appointments, this tracker will make sure you're on time and prepared for each office visit.  There are four trackers to a page in bright, cheery colors.
Nutrition Tracker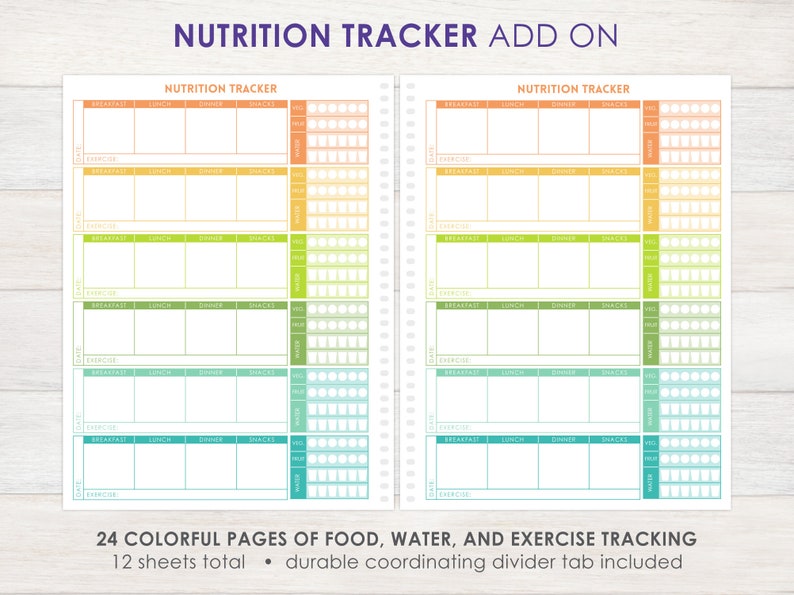 Stay healthy with a daily journal of food intake and exercise.  Check off each all-important veggie and fruit serving and monitor water consumption.
Baby Tracker & Keepsake
Every new mom will love this tracker for baby's first year.  Document the day they were born with important details to remember and first impressions; a first year doctor appointments schedule with notes; a detailed baby grown chart; important emergency contacts for baby; and 12 pages of a colorful monthly baby keepsake tracker with measurement information, milestones and accomplishments.  All this with a laminated tab for easy access and bound neatly within the planner of your choice.
Puzzles & Games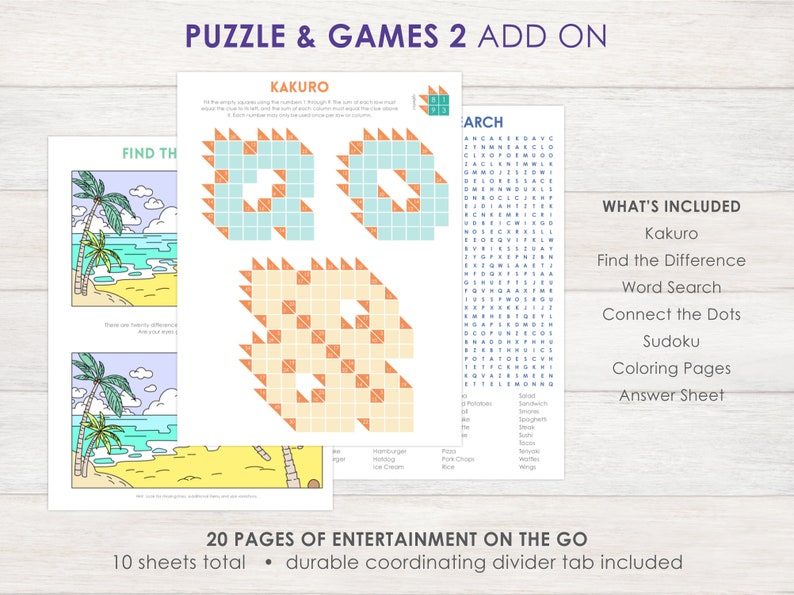 It's all fun and games!  Take a break from your busy day with 20 pages of mind games and puzzles including Sudoku, Kakuro, Word Search, and Connect the Dots.
Travel Itinerary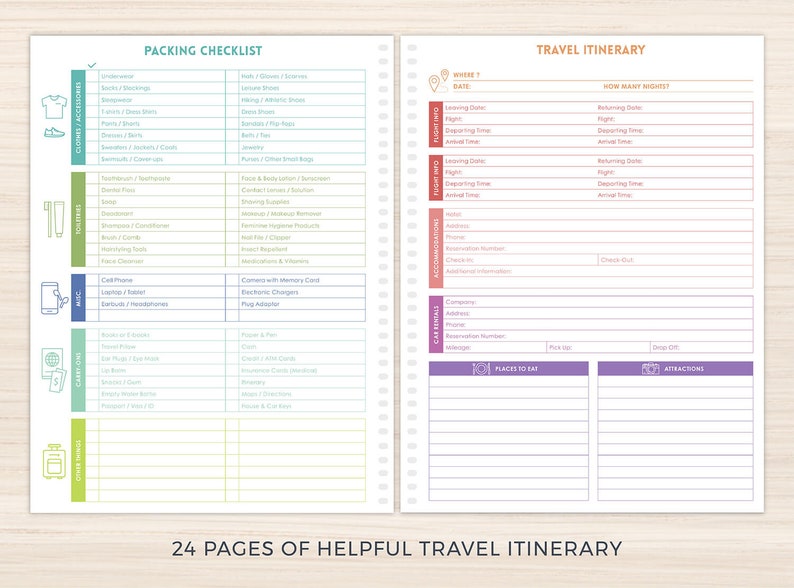 Whether you travel a little or a lot, this add-on will conveniently store all the important details for your trip including airline, hotel and rental car details and confirmation numbers, addresses, important phone numbers as well as a handy packing and to-do list.
Important Dates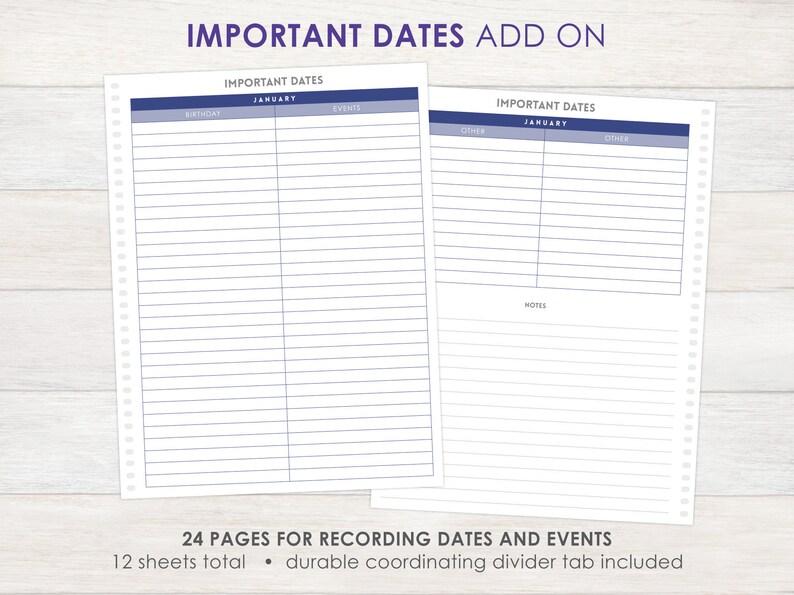 24 color-coordinated pages of monthly important dates for birthdays, anniversaries, special events, etc.
Account Tracker
Keep track of your bank balances with this account tracker that lets you monitor your finances.  With room to record date, check number, description, and total/balance, this tool will keep your cashflow and expenditures handy for your personal or business accounts.
Student Checklist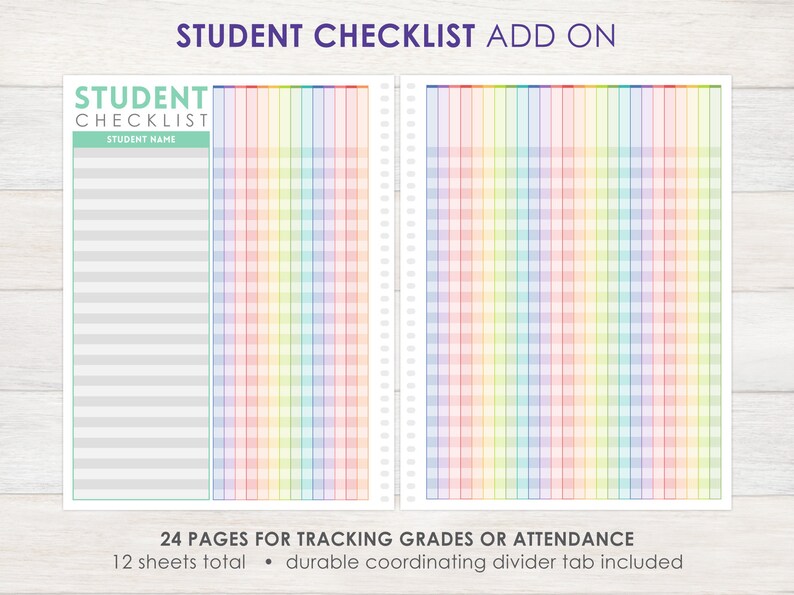 The student check list is an easy tool for teachers to use as an absentee log or keep track of permission slips turned in, assignments or mastered skills.  The page can also be folded to easily align student names with checked items.
Pocket Folder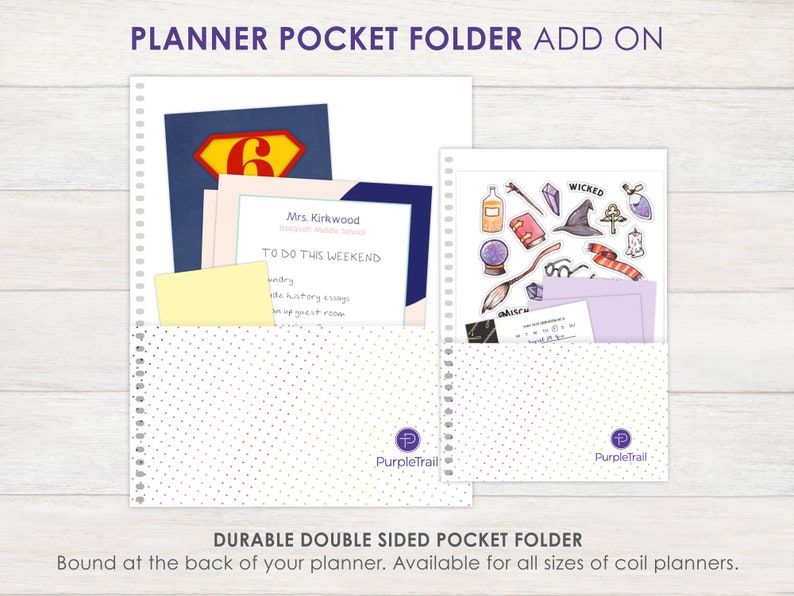 A smart, laminated, cardstock pocket page to hold items such as tickets, papers, memos and loose notes.  This double-sided pocket folder will be bound into your planner for durability and easy access.
Stickers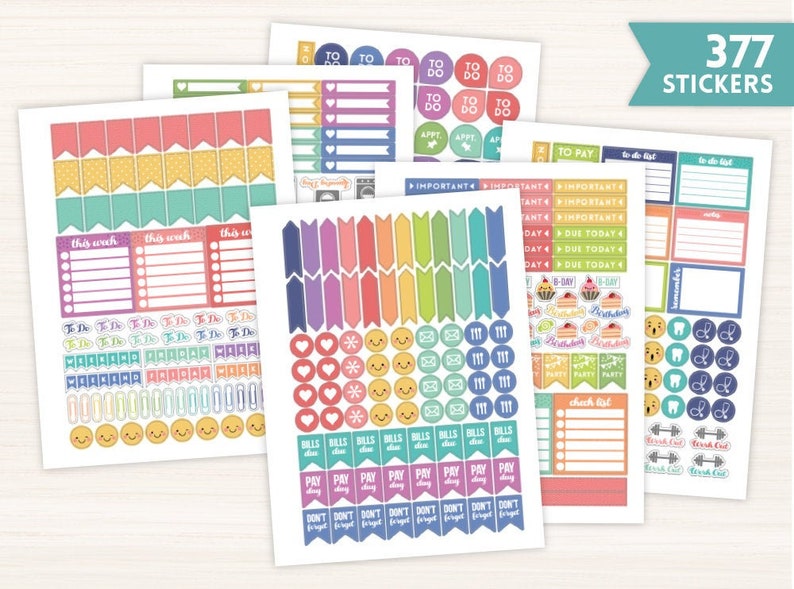 As a special add-on, we've included color-coordinated stickers to dress up and organize your pages.  You'll find brightly colored tabs, boxes, alerts and lists in addition to cute decorations for appointments, games, birthdays and more. When ordered, stickers come neatly attached inside your planner for convenience and ease of use.  So decorate a little or a lot — it's all up to you!
For a complete overview of our planners, check out the following posts: Weekly Personal Planner, Teacher Planner, Wedding Planner, Daily Planner, Monthly Planner.  Is there a add-on you would love to see in our selection?  Tell us in the comments below! Happy Planning!
(Visited 1,812 times, 1 visits today)