Introducing three new weekly planner page layouts! We've just added more inside page choices – vertical hourly in 15-minute increments, 3-Custom sections and a Quad layout  – to join our three existing options. At PurpleTrail we believe that you should have the planner that best suits your style and way you plan your days. Take a peek at our three new layout options:
Weekly Planner: Custom Vertical Hourly                    (15-Minute Increment)
This layout is very similar to our original vertical hourly weekly layout except with 15-minute increments rather than the one-hour increments. You can customize the start time to make it as efficient as possible for your busy days whether they start at 5 a.m. or 10 a.m. – it's all up to you. The default start times are 8 a.m. to 6:30 p.m. (for a total of 10.5 hours available to customize) on the 8.5×11 size and 9 a.m. to 6 p.m. (for a total of 9 hours available to customize) on the 6×8 size. The lined columns in our new 15-minute increment vertical hourly layout are 2.3″w on the 8.5×11 size and 1.58″w on the 6×8 size.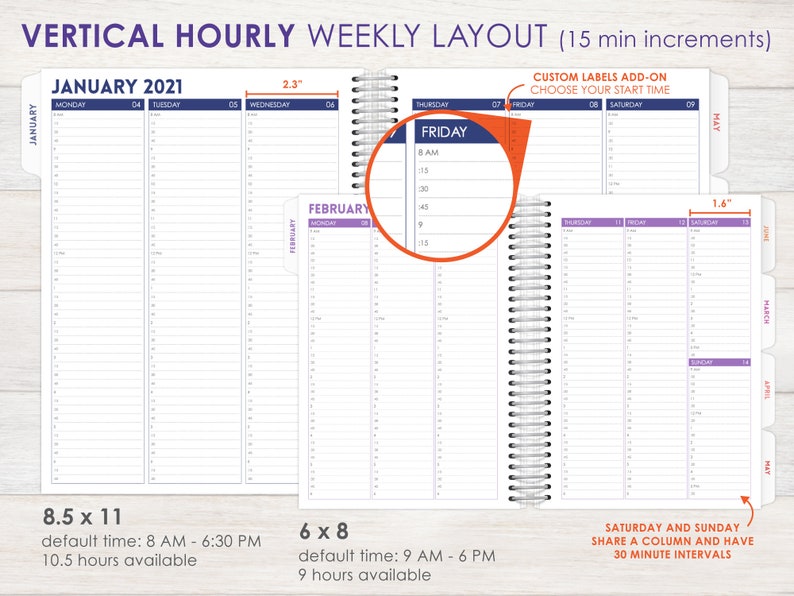 Weekly Planner: Custom Three-Section
This weekly layout gives you the ability to customize the labels for three vertical sections – so make them whatever you want. Our customers have told us they like to manage their weekly spreads a little bit differently. This new layout lets you organize your days however you want. Morning, Afternoon, Evening; Home, Work, Volunteering; Mom, Dad, Kids –– the sky's the limit. We don't care what you label them, we do care that they work efficiently for you! The unlined columns for this layout measure 2.23″w x 2.7″h on the 8.5×11 size and 1.58″w x 2.1″h on the 6×8 size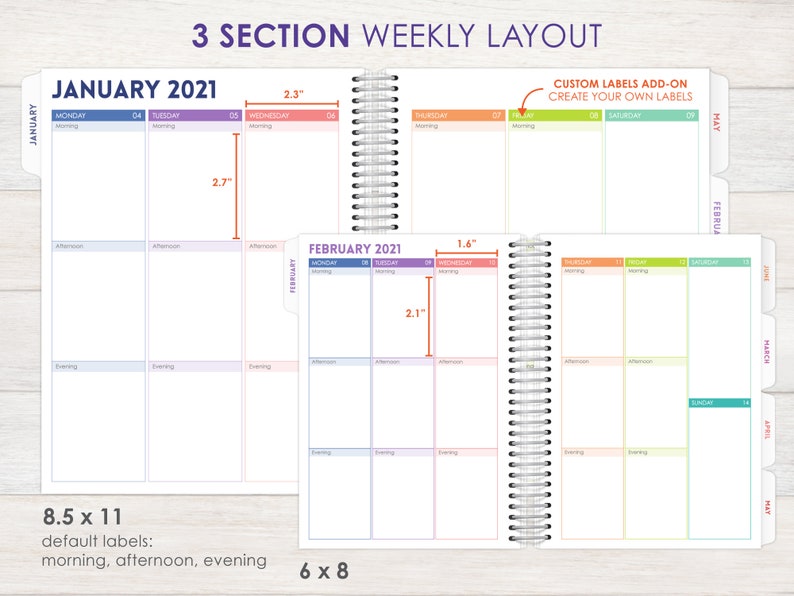 Weekly Planner: Quad
We're really excited to introduce our exclusive Quad Weekly layout. This unique format gives our customers a wider vertical column for each day of the week. It's perfect for those with larger handwriting and those who do not need the extra length of the columns. Especially handy is the notes quadrant in the lower right which is perfect for weekly goals or to-do lists. The lined columns for this layout measure 3.5″w x 4.24″ h for the 8.5×11 size and 2.3″w x 3.23″h on the 6×8 size. We can't wait to see how our customers use this layout.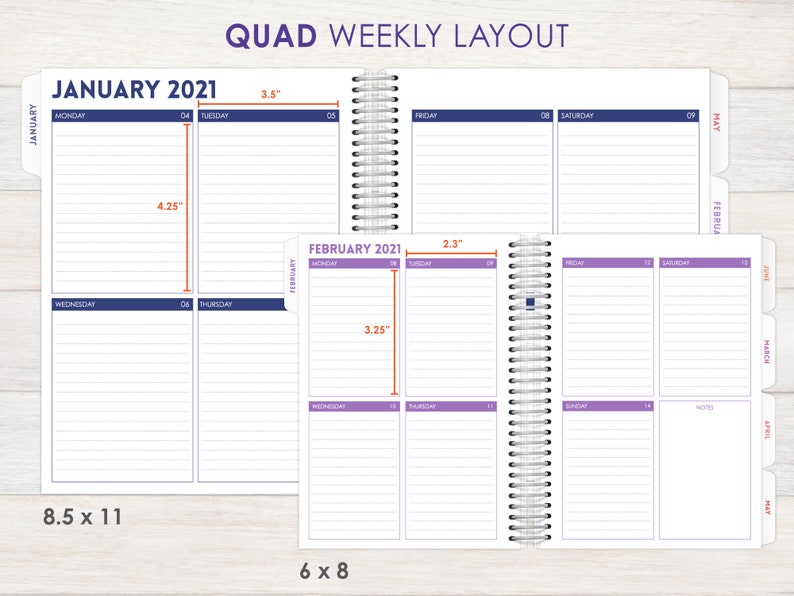 These three new inside page layout options join our existing three layout options that include horizontal, vertical, and vertical hourly: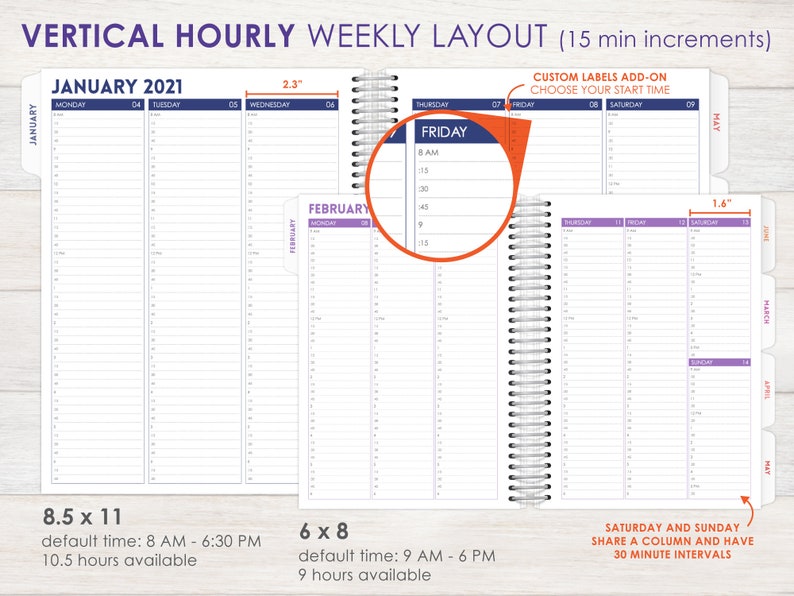 PurpleTrail Weekly Planner Hourly Layout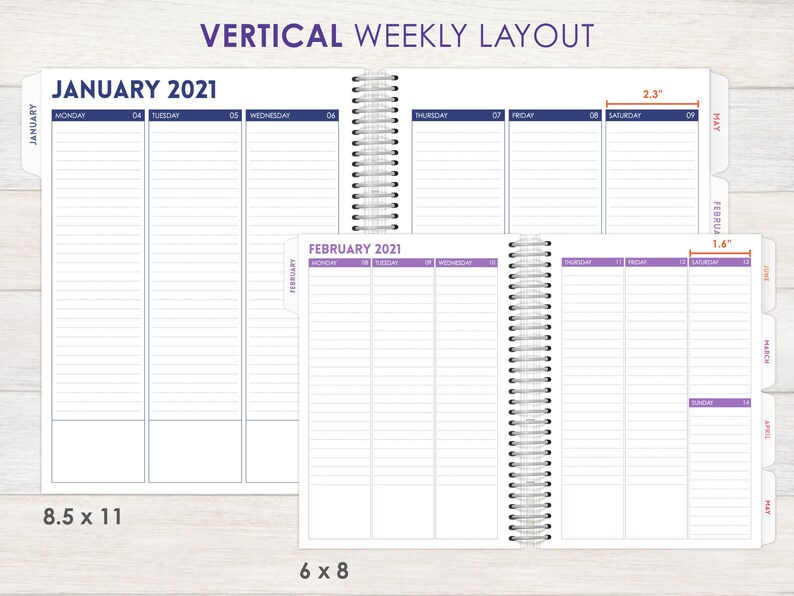 PurpleTrail Weekly Planner Vertical Layout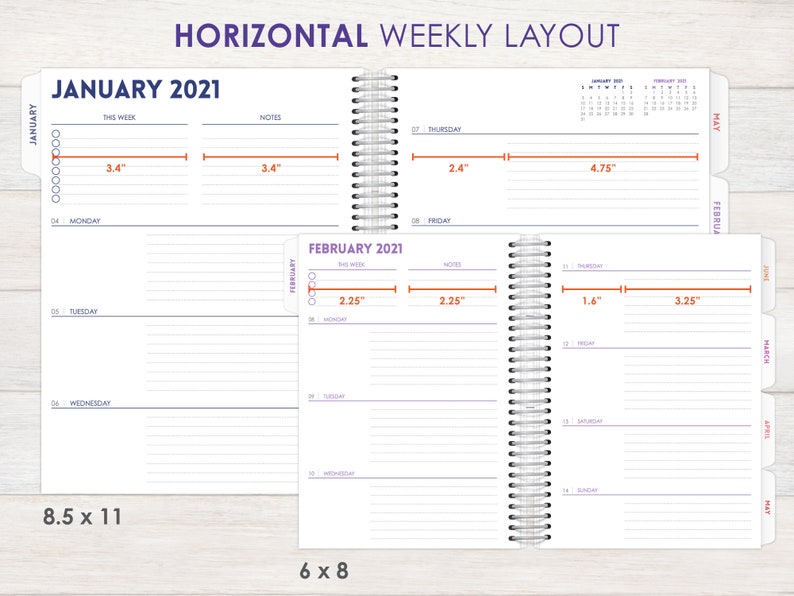 And for our horizontal layout for our new sewn-bound bookbinding option:
Which Layout is Right for You?
With a total of 6 inside page layout options to choose from, which is the right one for you? Since everyone plans differently that answer is not the same for everyone. We are committed to giving our customers the choice to pick and customize the perfect layout for the way they plan their days.
One way to help determine which layout you might like is to evaluate what you are currently using. Do you like it? Do you need more room? Do you find yourself frustrated that you can't fully utilize the space you have? Here are some very general questions to think about when selecting a layout. We'll let you take the rest from there!
Do you like to decorate your planner?
If you like to adorn your planner with stickers, illustrations or doodles, you might want to try our horizontal and vertical layouts with lots of space or our 3-section layout without lines. These give you two options for lots of space for creating a beautiful spread and one without lines that could impact the look and feel of your decorations. See our post on PurpleTrail stickers and types and how they can be used in your weekly spreads.
Are you a professional?
Many of our professional customers like our vertical hourly layouts in either 15-minute or 1-hour increments. These allow you to carefully plan each day, track billable hours and manage a schedule of appointments or meetings. You can also set your start time to maximize your day of planning, which is handy if you're an early riser or your workday continues into the night.
Can't get it straight?
Your handwriting that is. Then pick from our weekly planner lined options: vertical, vertical hourly (15-minute increment), vertical hourly (1-hour increment), horizontal or quad layouts. These layouts feature light lines to make sure all your writing looks neat and organized.
Crave space?
Our layout with the largest area for planning dedicated to each day is our vertical layout (in the 8.5×11 size). This gives you the maximum amount of space. Our quad layout comes in at 14 square inches per day (on the 8.5×11 size), however a handy extra quadrant for "notes" is added to the end of each week and can be used however necessary – shopping list, to-do list, goals, or something else.
Want it custom?
Our 3-section weekly layout gives you the option to customize each column for the way you plan your days. It can be morning, noon, or night or work, home, volunteer, or a section for each family member. You can personalize however works for you.
High-Volume Handwriting?
The layout with the most section width is our horizontal layout with a 4.75″ width in our 6×8 size. This is perfect for those with larger letters and print. Our 8.5×11 size in the same layout features two sections: a larger horizontal section next to a roughly square section for notes, to-dos, lists, goals, etc.
Need a new planner? Check out our family of planners including weekly/life planners, daily planners, monthly planners, teacher planners, student planners, mom planners, wedding planners, gay and lesbian wedding planners, meal planners and tiny planners.
(Visited 1,491 times, 1 visits today)