After the popularity of our custom personal planners, PurpleTrail is pleased to introduce new teacher lesson planners designed just for educators – meet the PurpleTrail Custom Teacher Planner!  Our teacher planners come with the same great personalization options plus unique inside pages for classroom management and organization, making them one of the best teacher planners on the market today.
In developing our planner, we found that the best teacher planners for teachers in elementary, middle and high school are those that include classroom-specific tracking and programming tools.  So we created just that and think we have launched an organizer for teachers that's head of its class.
Teacher Planner Inside Pages
Our monthly sections include a full-spread, 12-month calendar starting on whichever month you choose!  Behind each month is a dated weekday teacher lesson planner that you can organize however works best for you.  This weekly layout is perfect for tracking things like assessments, observations, evaluations, center activities, progress reports, learning targets, gym/PE schedules, music times, library schedules and staff lunches.  The optional stickers are a great way to customize your lesson planner pages for the season or theme of your classroom.
How you organize the PurpleTrail teacher calendar planner is up to you.  Its flexible layout makes it one of the best teacher planners for elementary teachers, middle school teachers, high school teachers, early childhood teachers, preschool teachers, daycare teachers, homeschool teachers, private tutors and more.
Even our customers who use teacher binders and their district's instructional calendar love our planner for teachers.  Some of them use both tools to organize their classrooms and many of them transfer the information to their PurpleTrail teacher's planner at the beginning of the academic year so that it's organized for the entire school year.
Teacher Planner Add-Ons
The PurpleTrail customized teacher planners also come with more than 15 add on options including a password log, address book, appointment lists, checklists, graph paper, note paper, to-do list, important dates, student checklist and more.
The student checklist is an easy tool for teachers to use as an absentee log or keep track of permission slips turned in, assignments or mastered skills.  The page can also be folded to easily align student names with checked items. Additional checklists can be created using our Check List add-ons with 20 pages (10 sheets) of additional space.
To-do list add-ons, as well as additional sets of notebook and graph paper, are often used by teachers to outline special units, fundraising programs and to provide instructions for special needs students and/or substitute teachers.
Teacher Planner Cover Options
In development, we learned that, after prioritizing organization tools, teachers wanted to create a customized cover that they were proud to display in their classroom.  So, unlike other teacher planners on the market such as the Erin Condren teacher planner and the Plum Paper teacher planner, we let you customize your teacher lesson planners as much as you want.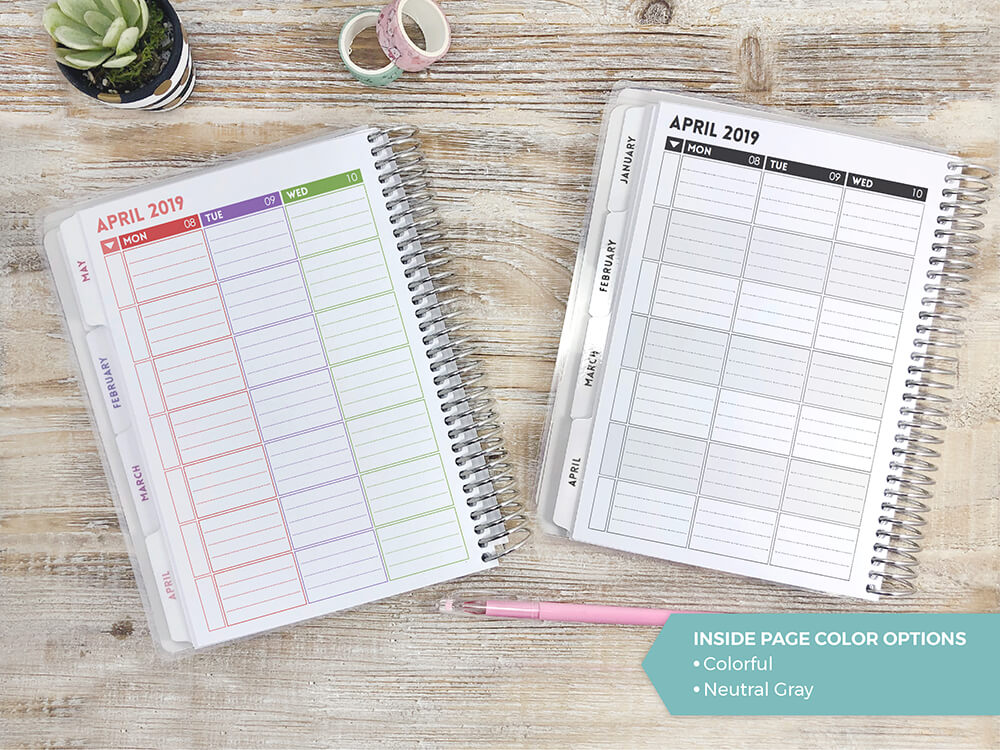 PurpleTrail lets you choose from more than 200 professionally designed covers with school-themed artwork that will inspire students and colleagues simply sitting on your desk. Or choose one of our other stylish designs inspired by trends in fashion and home decor. Each can be customized with your name, school or anything.  If you're feeling artsy you can always upload your own artwork in a .pdf, .ai, or .png file. Our online design center lets you alter any design of ours to make it work for you. There's honestly no limit to this, the planner can be made to look completely different all with a few clicks. We encourage that plus, it's fun!
Teachers can also pick their preference in cover options for their custom teacher planners.  The first option is an unbendable and durable hard cover that can be customized on the front and back.  The second option for customers is a flexible laminate cover that can be personalized on the front, inside front, inside back and back. Both are great options depending on how you use your personal planner.  Just pick the one that's best for you! Also, if you find a design that is not a teacher planner but you like it, let us know either before placing the order or in the special instructions when ordering.
Our teacher planners come in your choice of two sizes: 6 x 8 and 8.5 x 11.  Although most of our teachers opt for the larger size, the smaller version is perfect for taking your planner on the go.
So whether you teach in a centers-based classroom, standards-based classroom or learner-based classroom, the PurpleTrail teacher planner will be a great organizational tool for you.  Our teachers tell us they help them stick to their plans and create more enjoyable planning.
We love hearing how teachers use the PurpleTrail teacher planner book.  Here is a review from @JennuineTeaching to see how she's using it in her classroom.
Not a teacher, but want to plan and organize your days?  Check out our collection of personal life planners, mom planners and wedding planners and see how we stack up against others on the market.
(Visited 3,514 times, 4 visits today)