Get our beautifully designed planner stickers delivered to your door every season with our new Planner Sticker Subscription. Whether you're an avid planner or someone who just enjoys stationery, you'll love receiving a surprise selection of eight 5×7 sheets of stickers in the mail every quarter. It's a whole lotta happy for just $14.95/quarter – and you can cancel at any time.
The PurpleTrail Sticker Subscription
A sticker subscription is a great idea if you love planning for holidays and special occasions. With the PurpleTrail sticker subscription, you will receive stickers for the holidays well in advance. So there's no need to panic and buy stickers at retail prices just to have cute pages for a holiday. These holiday stickers will arrive right at your doorstep so they are ready for you to start planning or decorating.
The subscription will contain stickers for all the major holidays and seasons including Christmas stickers, Halloween stickers, Valentine's Day stickers, Easter stickers, 4th of July stickers and more. There will also be seasonal stickers such as Summer stickers with fun warm-weather designs, Fall stickers with cozy, autumnal characters, Winter stickers with sparkling snowflakes and Spring stickers with bright flowers and plants.
Happy In Every Pack
Once you subscribe to our sticker subscription you will receive eight 5×7 sheets per quarter in the mail. In addition to holiday and seasonal designs, you'll also get organizational stickers such as checklists, boxes, half boxes, page flags, inspiration words, headers, banners, fun characters and more. The designs you will receive are a surprise, but you're guaranteed to receive both holiday/seasonal, organizational and character stickers in every package.
Incredible Value
With the PurpleTrail sticker subscription, you can treat yourself to eight sheets of planner pretties four times a year for just $14.95/quarter plus FREE shipping. That's one incredible value. And customers aren't locked into a yearly subscription. They can simply cancel before the next quarter is shipped and they will no longer be billed. And free shipping within the continental U.S. makes a great value even better!
Quality Throughout
PurpleTrail is committed to using the highest quality materials and printing process. The paper has a smooth, matte finish – one that's the perfect texture for smudge-proof writing with most pens. Light kiss cuts are made just outside the sticker border for easy peeling. This prevents rips and any tearing of the stickers.
Fun in Your Mailbox
Each pack of stickers will be a surprise, but you're guaranteed to receive organizational planner stickers as well as seasonal planner stickers. Here are some of the types of stickers you can find in your quarterly pack:
1. Decorative Icons
These stickers give emphasis to days or entries into your planner. Day planner stickers such as these can be cute and creative or specifically call out types of appointments such as doctor, dentist or hair appointments or reminders such paydays, workouts or lunch and dinner dates.
This icon page in our Travel & Planner Premium sticker set is a great example of decorative icons.
2. Frames & Boxes
Frames and boxes will fill an entire area (either column, row or block) of your planner. You then can write directly on top of these stickers to remind you of appointments, create small lists, or track progress on a goal or project. We recommend using a fine tip Sharpie pen for our premium stickers for the best visibility and bleed free experience.
Our Everyday Bracket stickers are a colorful example of frame or box stickers.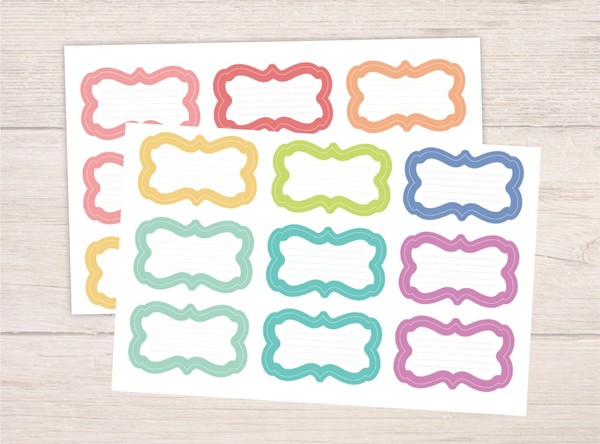 3. Flags & Banners
These cute shapes add the perfect amount of emphasis on holidays or special days. A little more than an icon and less than a frame or box, the banners will drape whimsically across a column while the flags stand at attention either horizontally or vertically. Both will provide a creative signal that a day, event or appointment is important.
This page from our October & Halloween premium sticker set is a great example of both flags and banners for your planners.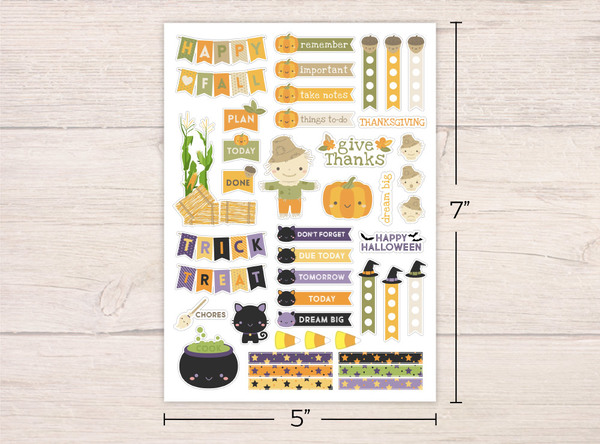 4. Illustrations & Images
With these stickers, you can really let your personality shine. Have a craving for cacti? Collect a stack of hand-drawn functional and fun stickers of the succulent variety. Are you a runner? Find stickers that are both stylish and reflect your favorite hobby. The sky is the limit to plan with your passion.
Brighten your day with the delivery of fun and functional stickers to fit any style of planner. We'll make sure you're ready to plan for each holiday and season well in advance. Whether you like to decorate a little or a lot, our stickers will add style and flair to your pages. To learn more about how to decorate your planner see our post on how to decorate your planner
(Visited 10 times, 1 visits today)