You asked for planner stickers – and we've delivered! Now introducing Premium Planner Stickers that are perfect to creatively add to the ways you plan your days. So go ahead, stylize the pages of your planner with our stickers for planners.
Planner Stickers: Matte or Gloss
To give you an option that works for you, our collection of planner stickers features both matte and glossy finishes. Our Premium Planner Stickers feature a smooth glossy finish with a kiss or die-cut shape. Each sticker sheet is a 5×7 page, with multiple sticker sheets in themed sets. We recommend using a fine point Sharpie on these stickers for best use. Our matte finish agenda stickers include two 5.5 x 8.5 sheets and can be written on with most ball, roller and other types of pens.
Planner Stickers: Types and Uses
1. Decorative Icons
These stickers give emphasis to days or entries into your planner. Day planner stickers such as these can be cute and creative or specifically call out types of appointments such as doctor, dentist or hair appointments or reminders such paydays, workouts or lunch and dinner dates.
This icon page in our Travel & Planner Premium sticker set is a great example of decorative icons.
2. Frames & Boxes
Frames and boxes will fill an entire area (either column, row or block) of your planner. You then can write directly on top of these stickers to remind you of appointments, create small lists, or track progress on a goal or project. We recommend using a fine tip Sharpie pen for our premium stickers for the best visibility and bleed free experience.
Our Everyday Bracket stickers are a colorful example of frame or box stickers.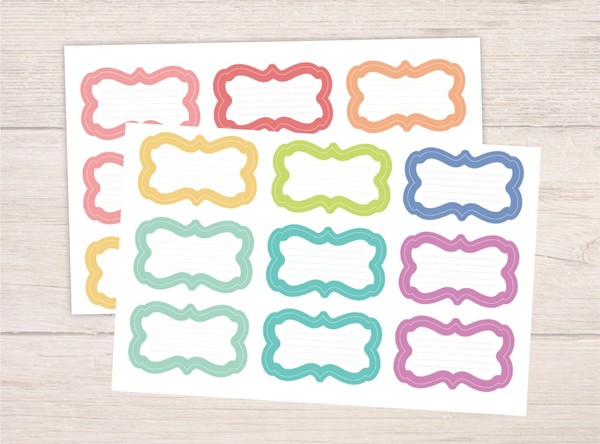 3. Flags & Banners
These cute shapes add the perfect amount of emphasis on holidays or special days. A little more than an icon and less than a frame or box, the banners will drape whimsically across a column while the flags stand at attention either horizontally or vertically. Both will provide a creative signal that a day, event or appointment is important.
This page from our October & Halloween premium sticker set is a great example of both flags and banners for your planners.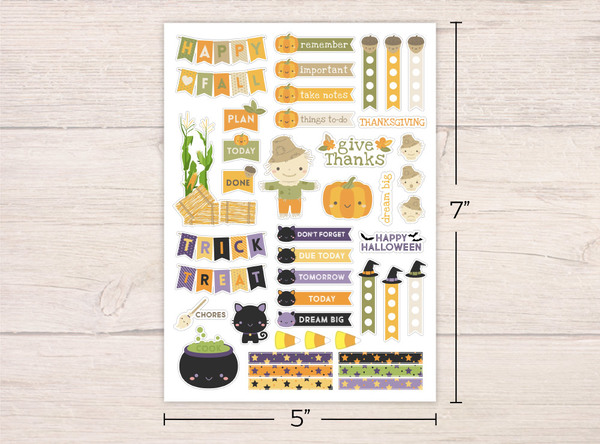 4. Illustrations & Images
With these stickers, you can really let your personality shine. Have a craving for cacti? Collect a stack of hand-drawn functional and fun stickers of the succulent variety. Are you a runner? Find stickers that are both stylish and reflect your favorite hobby. The sky is the limit to plan with your passion.
5. Thematic Sets
Once you've decided what type of stickers work for you, try to get more bang for your buck and buy them in sets or sticker packs. Then you'll have an entire collection that matches and color coordinates. You'll save money and will be able to create stylish layouts with all your favorite sticker formats.
In our Kitties Premium Sticker Set furry friends are featured on all types of stickers for planners from icons to banners and more. Other popular sticker sets include glam planner stickers, college planner stickers, monthly planner stickers, Christmas planner stickers, birthday planner stickers and more.
Planner Stickers: How to Decorate Your Planner
Everyone has a unique way of planning. Some like small planners like our Tiny Planner and some like the 8.5 x 11 variety. Covers can range from hard to synthetic materials and laminate. And the inside pages are equally as varied with horizontal, vertical, quad and grid options. The same can be said about how to decorate your planner. The most important thing is to make sure it works for you and the time you have available to plan your days.
Take a peek at some of the ways our customers use sticker in their daily, weekly, monthly and yearly planning.
1. Functional Emphasis Planner
Don't like to spend a lot of time decorating your planner each week? Then you are this kind of planner. Use icon and image stickers to call out items that are important to you and then use your planner to track to-do lists and appointments in a fuss-free manner!
2. Color-Coded Planner
Those planners who like to organize their planners in a sleek and stylized way but still provide at-a-glance organization use this type of planning strategy. Finding a color for certain aspects of your life – like home vs. work, family members or a category of planning like appointments, meals or goals – will make your planner stylish yet very functional.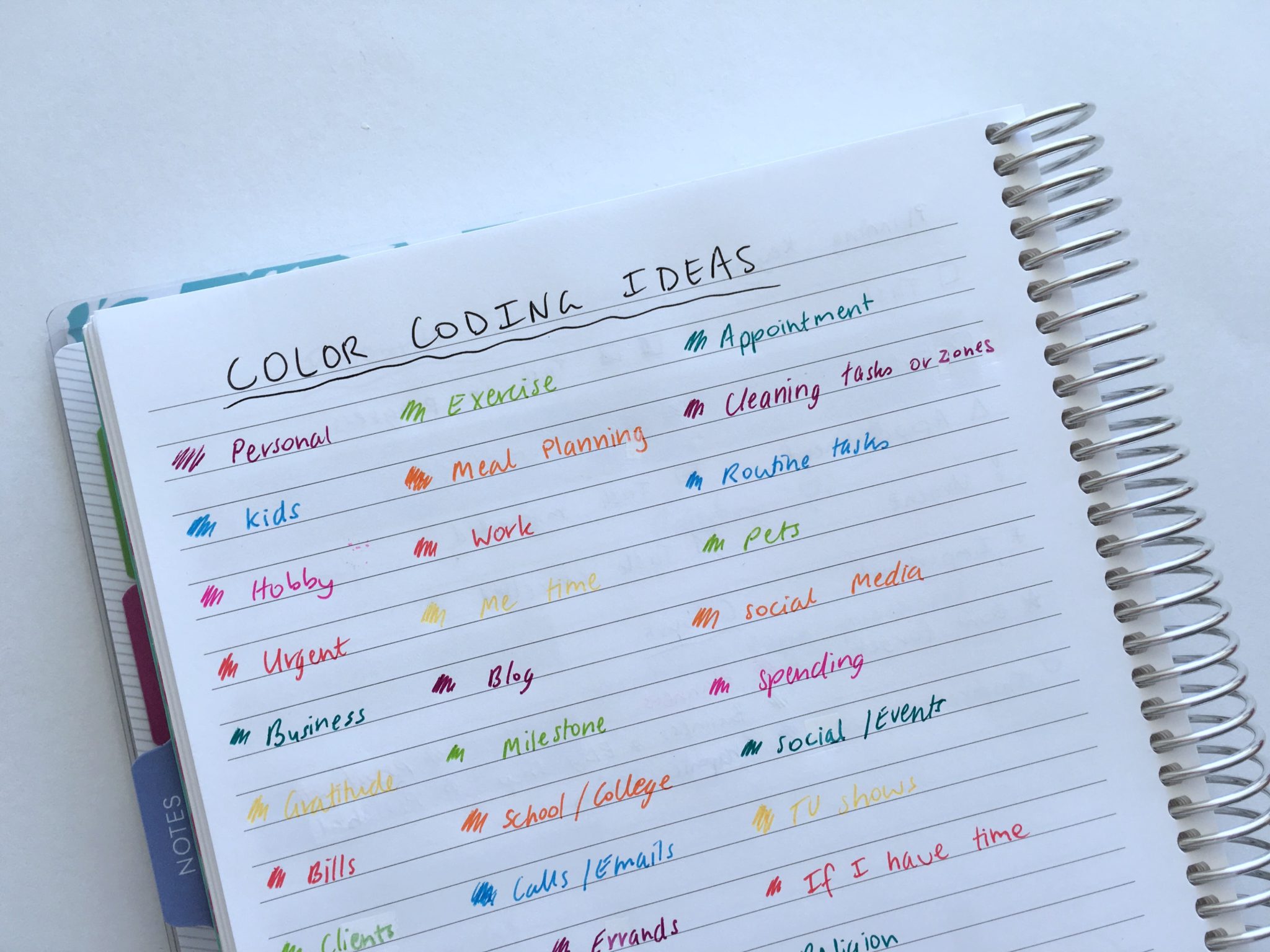 The most important component for starting a color-coded type of planner is to pick a color you like for each item and stick to it. Then look for stickers that match your color theme and build a collection for items now and down the road. For ideas on how to color code your planner see this post from All About the House.
3. Decorated Planner
If you crave a beautiful layout to inspire you throughout your week, then consider yourself a planner decorator. You'll like to use all the sticker types available – and more! Thematic sets are the best option for you, giving you a matching palette for each weekly spread. Boxes and frames really add pretty accents and tie your look together. Look for holiday and seasonal sticker sets so you can change the mood of your spread on a weekly basis and get in the spirit of the season.
4. Scrapbook Planner
If you're a decorator planner but like to use your planner as a keepsake to record memories and milestones, then you're a scrapbook planner. Who said scrapbooking is a bygone hobby? Using your planner for memory-keeping serves a dual purpose of archiving memories and setting goals and the tasks needed to accomplish them.
Stickers are a key component to scrapbook planning, but so are photos. Try the Polaroid Zip Camera, which generates 2×3 inch full-color photos on peel-back, sticky paper. You can print directly from your mobile phone or tablet via Bluetooth or NFC and requires no ink!
Need a new planner? Check out our family of planners including weekly/life planners, daily planners, monthly planners, teacher planners, student planners, mom planners, wedding planners, gay and lesbian wedding planners, meal planners and tiny planners.
(Visited 555 times, 1 visits today)