It's never been easier to add a little sparkle to your cards and invitations. PurpleTrail has just added a new glitter card stock to its paper options that will leave your design shining bright like a diamond. The new glitter card stock is a glamorous statement and the glitter won't rub off the card. An added bonus to the glitter effect is that it is a thick 24 points, making it feel very luxurious and substantial in your hand. The glitter paper also appears on both the front and back of the card or invitation and can be used on any die cut.
The new radiant glitter cardstock is perfect for any occasion but especially for wedding invitations, baby showers, quinceaneras, business cards, birthday party invitations, and more. It is available on any size of flat card sitewide on the PurpleTrail website. There's nothing quite as magical as real glitter invitations. Simply pick Glitter from the dropdown menu for Paper Type. Here are some of our favorite ways to incorporate our new glitter cardstock option into your real glitter invitations or cards.
The glitter card stock makes a delightful shimmer on cards. That means it's perfect for making glitter baby announcements and glitter baby shower invitations particularly charming – especially for little girls. The glitter is fabulously shimmery on white and light colored designs making invitations such as our Ballerina Silhouette Baby Shower Invitation, Little Princess Quatrefoil Invitation and Pink and Brown Floral Baby Announcement particularly sweet.
Glitter gives wedding invitations a luxurious sparkle, even on designs that aren't particularly feminine. Our Elegant Blue Watercolor Wash Wedding Invitation looks rich and chic with ombre stacks of blue highlighted by a delicate shimmer of glitter card stock. Even the modern Midnight Brushstroke Glitter Wedding Invitation becomes more glamorous with glitter cardstock without detracting from its modern aesthetic. And of course, our whimsical Pink Watercolor Peonies Wedding invitation looks even more feminine and delicate on glitter card stock. Who wouldn't love sparkle wedding invitations?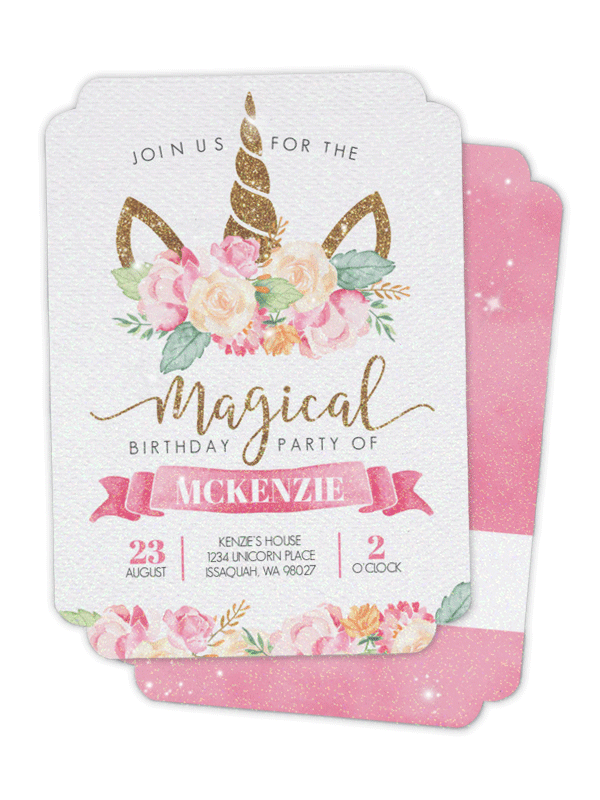 Invitations with a magical feel such as our Magical Watercolor Unicorn Birthday Invitations, Royal Ball Sweet Sixteen Birthday invitations or Winter Storm Kids Birthday Invitation will be enhanced with the radiant shine of the glitter cardstock option. Any kid who likes to play pretend will love the added shimmer the glitter card stock gives to their party invitations.
Our Black Turquoise Masquerade Quinceanera Invitation, Sparkly & Magical Quinceanera Invitation and Floral Embellished Frame Quinceanera Invitation are all excellent choices for using our new glitter card stock. Adding a bit of sparkle to Quinceanera Invitations will really make them stand out. And isn't that what a quinceanera celebration is all about?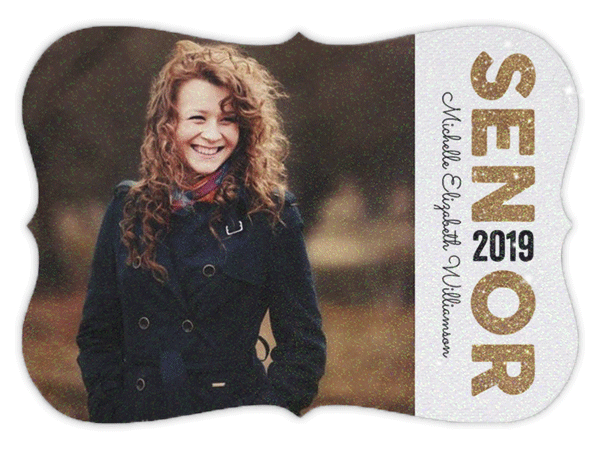 Graduation isn't an occasion we traditionally think of for sparkly invitations, however, designs such as our Modern Painted Photo Graduation Announcement and Modern Faux Glitter Typography would look great with the glitter cards stock. It's a great way to make an extra special graduation invitation or announcement for such a momentous occasion.
The holidays are the perfect time to add a little extra sparkle and shine. Ordering your holiday cards with our glitter cardstock is a new way for you to make them unique.
Most all of our holiday cards look great in glitter card stock, but here are some of our absolute favorite. Our Red Glitter Square Christmas Photo Card has accents of faux glitter which really come alive when using our glitter cardstock. Any of our cards with snow accents look great in glitter cards stock, but the dark colors on our Midnight Glitter Snowflakes Holiday Card really make the glitter accents pop.
We're very excited to see how our customers will use our new glitter card stock in their cards or invitations. Share your real glitter invitations or cards on Facebook or Instagram and show us using #purpletrailinvitations.
(Visited 71 times, 1 visits today)