The popular add-on sections available from PurpleTrail just got a little better! Now 10 add-on sections can be distributed behind each month for easy monthly access. With PurpleTrail you can create the planner of your dreams and build it just the way you like it. So, don't be limited by standard planners available in retail stores. Your PurpleTrail planner can be customized to fit the way you plan your days.
The new distributed add-on sections include the account tracker, bill tracker, checklist, dotted grid, fitness tracker, graph paper, note paper, student checklist, to-do list and shopping list. These add ons can be distributed – one page added to the end of each month (up to a total of 4 pages) – or positioned in the back of the planner with a heavy-duty mylar tabbed divider page.
So take a peek at our new distributed add-ons available for all of our custom planners including daily, weekly, monthly, mom planners, academic planners, wedding planners, meal planners, content planners and more. You'll make your planner more productive and your life more efficient.
Distributed Account Tracker
Keep track of your bank balances with this account tracker that lets you easily monitor your finances. With room for date, check number, description, credit/debit and amount, it will let you track each expense and deposit at a moment's notice. It's also a great reference tool for monitoring your account for fraudulent activity.
Distributed Bill Tracker
Banish late payments with this convenient bill tracker to write down due dates, notes and payment information. It also includes a checkbox to note when a payment has been completed to help you stay on track.
Distributed Check List
A must-have add-on for those who love to check off items and feel productive. The checklist section is perfect for grocery shopping, work lists, to-do lists, Christmas lists and more. To the right of the main column are columns for tracking progress, status or labeling.
Distributed Fitness Tracker
Anyone who is training or just trying to stay healthy will love our two-page spread, monthly fitness tracker. It includes room for month of the year, monthly fitness goals, measurements, motivation, notes, a progress chart, and a weekly fitness log to track exercise date, exercise type, time, distance and sets/reps.
Distributed Graph Paper
If you're a list maker or a note taker, here's a great add on for you — a sheet of 80 lb., double-sided graph paper for you to journal or jot. It's perfect for creating charts or progress on goals.
Distributed Notes Paper
Whether you're journaling or doodling, these pages are a must-have for all who need some extra note-taking space on-the-go.
Distributed Student Checklist
The student checklist is an easy tool for teachers to use as an absentee log or keep track of permission slips turned in or assignments. One side of the page includes a column of student names adjacent to multicolored columns, with multicolored columns continuing on the back.
Distributed Dotted Grid
If you're into bullet journaling or just want the flexibility of using a dotted grid paper however you want, this is the add-on for you. It's a blank canvas for your creativity, goals or organization.
Distributed To-Do List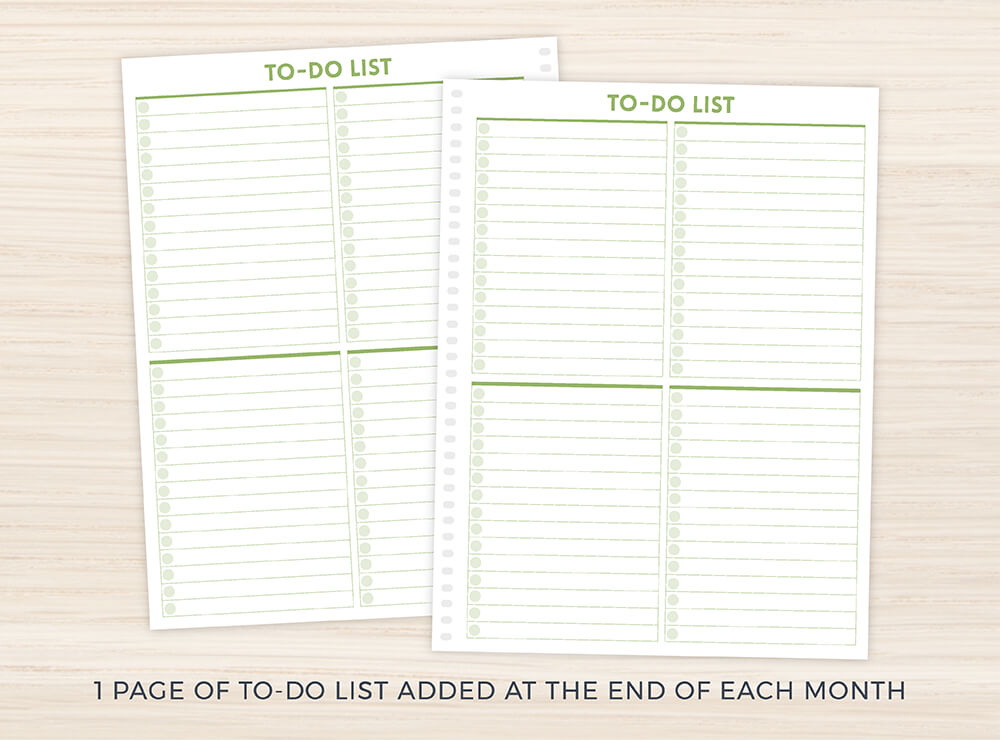 Feel better organized and in control of your day as you label each section and cross items off your list! It features four quadrants of lined lists with a shaded circle to mark each item as completed.
Distributed Shopping List
A detailed shopping list with divided sections for protein, produce, dairy, beverages, grains, snacks, pantry, frozen, household and other. With room for up to 4 sheets at the end of each month, you'll keep your shopping lists organized and errands efficient and productive.
(Visited 128 times, 1 visits today)