In this installment of Meet A Designer, we'd like to introduce you to Lena. We are so happy to welcome a new designer to our team! Lena is now a part of the PurpleTrail family. Here's a little bit about her design style, experience and some other random bits too.
Meet A Designer: Lena
Background:
I grew up in the greater Seattle area and have lived here all my life except for four years when I was going to school at Scripps College, a very small liberal arts college in Southern California. During my time there, I studied fine art with a concentration in digital art. I knew around my junior year that I wanted to pursue a career in design when I graduated, but being a very, very tiny school – less than 1,000 students – Scripps didn't have much in the way of design classes. I took what I could and taught myself the rest. Growing up, I'd always had an eye for color, layout and typography. Graphic design was a natural transition for me.
After college I went on to work at a photography-videography studio where I was able to practice my design skills working on custom packaging for clients. Following my time there, I did some freelance work that included wedding stationery, logo design and graphics for apparel and promotional products. I've always loved designing and making my own cards, so I jumped at the opportunity to work at PurpleTrail!
Design style(s) you love: 
I would have to say that I like a wide variety of design – eclectic, modern, vintage, rustic, romantic, and whimsical – but what I love above all else is hand lettering.
What inspires you?
DIY, anything vintage, fashion and culture.
What you bring to PurpleTrail:
My charm and fantastic sense of humor, of course! In all seriousness though, I think I bring a genuine enthusiasm and love for cards. I just love them. It's kind of nerdy, but true.
Interests outside of graphic design:
I love DIY projects and am definitely a Pinterest addict. My most recent projects include a giant origami lampshade and a necklace. I am also a thrift store sleuth and spend a good amount of my free time rooting around thrift shops and vintage stores in search of the perfect leather jacket or awesome t-shirt.
In the summer months, I spend as much time as possible in the outdoors by some body of water. I grew up swimming, diving and lifeguarding.  I also love all by-the-water activities such as lounging, drinking cool beverages, reading, lawn sports and picnicking. Nothing sounds better to me than an afternoon on a dock or laying by the pool.
3 Random facts about you:
1. I am positively smitten with dogs with short legs and long bodies. Their oddly proportioned bodies are just too cute to resist!
2. My boyfriend and I brew beer. AND it's delicious!
3. I have around 30 different nail polish colors…
Favorite designs you've made for PurpleTrail and why you love them:
Pink Flowers (Set) Save the Date
When I first started at PurpleTrail, I began making sets to go with some of our existing custom wedding invitation designs. I love this design because even though I was making it to match the pre-existing invitation, it is still unique and a beautiful addition to the set.  
Green Wood Grain Photo (Set) Save the Date Announcement
Like the first design, this was a Save the Date. I made to go with an invitation one of the designers here had already designed. I really love this design for it's fun, playful feel and the look of the photobooth strip!
Coral Polaroid Booklet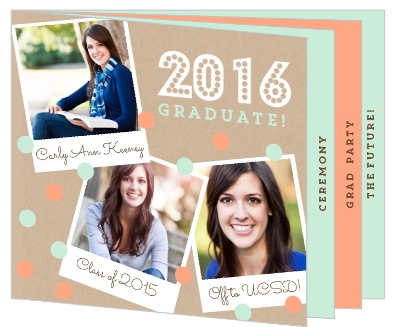 I'm a huge fan of polaroid or instant photos, so naturally I really love this graduation booklet I made with polaroid-esque photos scattered on the front with mint and coral confetti. I wanted to make something that was youthful and had a fun way for a grad to show off all of their graduation photos.
Gray and Green Dentist Graduation
Recently, we've been working on graduation announcements and invitations for all sorts of grads. This particular one I made is for a dentist, who specializes in orthodontics. I thought adding braces to the teeth would be a fun addition for someone who is about to give every preteen in the US some sparkly metal bits on their teeth! Yay, braces!
Welcome to the PurpleTrail family Lena!
(Visited 296 times, 1 visits today)