Inspired by the warm colors and crisp leaves of Fall? Or looking to add something wicked to your white wedding? Whether you're going for spooky & sophisticated or fun & festive, a Halloween-themed wedding is sure to gratify your inner goth. From ominous invitations to creepy cocktails, your Halloween wedding will haunt your friends and family for years to come. So grab your boo and read through these eye-popping ideas that are sure to make your wedding day dreadfully special.
Stationery
Set the tone for your Halloween wedding with customized, "save the dates," RSVPs, and invites from PurpleTrail. Create a gruesome design all on your own with our easy-to-use design center, or choose from one of our many ready-to-edit Halloween compositions. Ranging from charming jack-o-lanterns to chic skeletons, PurpleTrail offers an uncanny array of Halloween & Fall stationery. 
Decor
Gory or graceful? Kitschy or classic? When it comes to a Halloween wedding, there are several styles to choose from! Keep things elegant with Victorian-inspired dinnerware & lighting, such as candelabras and chandeliers, and floral arrangements in tones of red and purple. Consider renting a historic venue for your ceremony as well – a seemingly haunted location will naturally lend itself to a sense of mystery and eeriness. 

Favor a rustic quality for your Halloween wedding? Find a quaint farmhouse on a pumpkin patch to serve as your venue. Decorate with scarecrows, mini pumpkins, bales of hay, and friendly ghosts. Stick with the natural hues of Autumn – shades of orange, red, brown, and gold – with accents of complementary colors. Pair with linen fabrics and stained wood tables & seating. 
For a thoughtful, cohesive look, consider the addition of a matching poster, guestbook, and place settings! 

Party Favors
Trick or treat? Definitely treat! A great way to spotlight the Halloween season at your wedding is with a take-home party favor. Custom labels from PurpleTrail make creating a unique parting gift easy and fun! A scented candle capturing the Fall season is a lovely and useful favor your guests will love.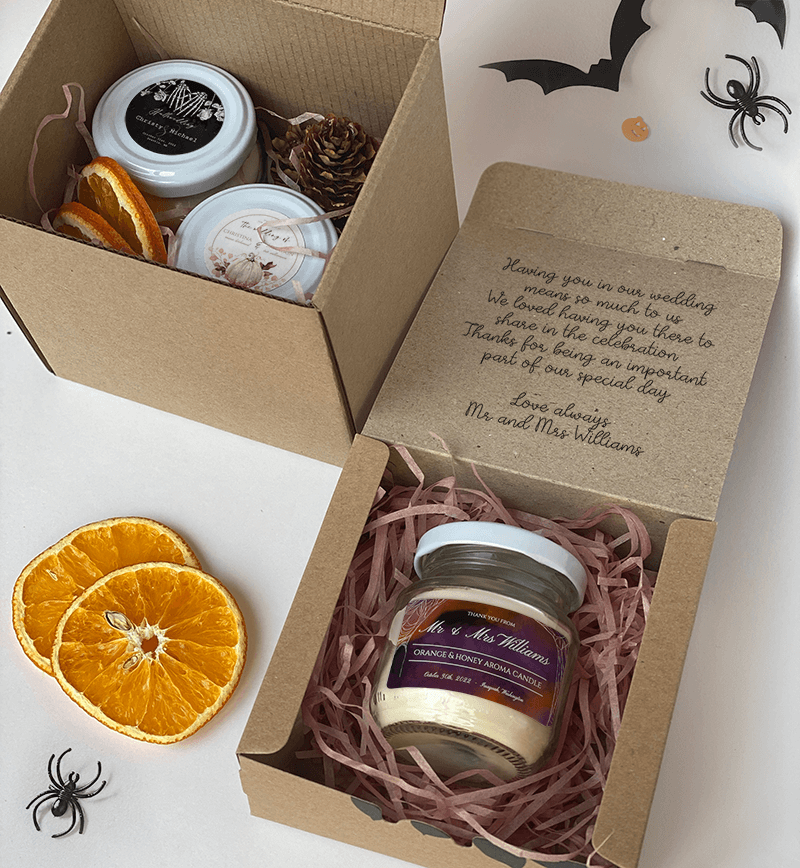 As a fun gift for guests of all ages, consider treat bags filled with sinfully sweet classic candies – sure to make even your most ghoulish of guests giddy with Halloween spirit!

Or, consider mini bottles of champagne wrapped with a custom label, matching your wedding's Halloween-inspired theme. 
Ready For Your Hallowedding? 

Having a Halloween wedding is a wonderfully wicked way for you and your partner to celebrate your adoration for each other (and the macabre!) Whether your Fall wedding is sweet and delightful or dark and frightful, you'll find everything you need at PurpleTrail! 
(Visited 24 times, 1 visits today)