Planning a graduation party is a labor of love and requires a lot of thought. If you focus only on the basics, like food, invitations, and venue, you might forget important must-have items that honor the graduate and make his/her guests feel special as well. Let's take a look at 10 graduation party ideas people tend to forget about in all the hustle and bustle of graduation season.
1.) Graduation Photo Display
A photo tribute to the graduate is an absolute must-have. After all, a grad party is a perfect time to dig up all those adorable baby photos, embarrassing school pictures, and photos from special milestones, like homecoming and prom.  We love the idea of using reclaimed wood as a backdrop for photos with a simple burlap pennant banner adornment, like the example below featured on Three Mango Seeds.
2.) Graduation Guest Book & Instant Camera
Graduation guest books are one of the most commonly forgotten items at a graduation party. But just think — years from now, won't you want to remember who showed up to make the day special? PurpleTrail's custom graduation guest books come in a variety of designs, including ones that show off the graduate's senior photos.  
The Adventure Begins Graduation Guest Book from PurpleTrail
A simple guest book turns into a cherished memento when it's personalized with the graduate's school colors and custom text.
Blue and Gray Photo Bar Graduation Guest Book from PurpleTrail
We love the idea of placing an instant camera next to your guest book and encouraging guests to glue the photo next to their name in the guest book. In an age where most photos are stuck in digital limbo, it's fun to have actual printed photos to remember who was at your graduation party.
3.) Photo Backdrop for Graduation Party Photos
Beautiful photo backdrops are becoming increasingly popular at graduation parties. Backdrops are easy to find pre-made. From custom Etsy masterpieces to the simple gold fringe curtain panels sold on Amazon, you've got tons of options to choose from.
WENWELL Gold and Royal Blue Congrats Graduation Backdrop from Amazon.com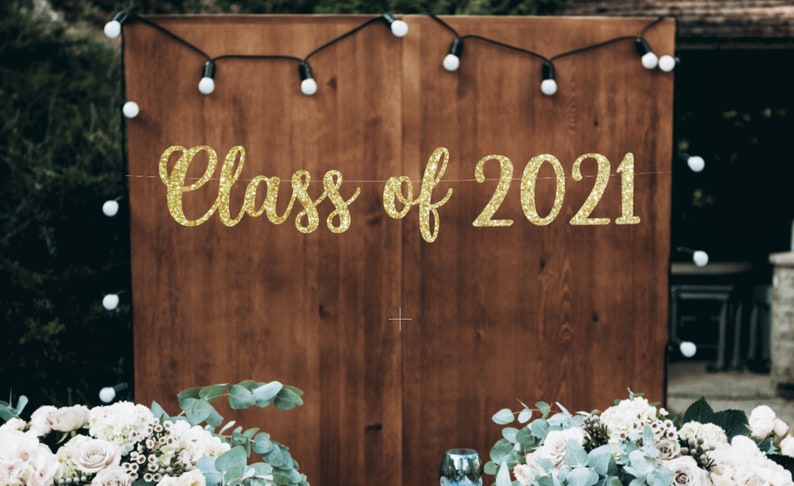 Class of 2021 sign from the Girly Gifts shop on Etsy
If you're crafty, you can make a DIY photo backdrop using a variety of materials, including crepe paper streamers or strips of fabric attached to a wall, or even old pallets adorned with pennant banners and paper rosettes. We love the DIY gold glitter photo backdrop below, which was featured on the Inspired By This blog.
4.) Memory Jars and/or Advice Boxes
Oh, how quickly we forget the details of high school after we graduate! That's why memory jars are such a great idea. With a memory jar, every friend and family member who knows and loves that graduate can write down a fun memory they've had with the grad and add it to the jar. Months or years down the road, the grad can open the memory jar from their graduation party and relive the best moments from high school when they're feeling nostalgic.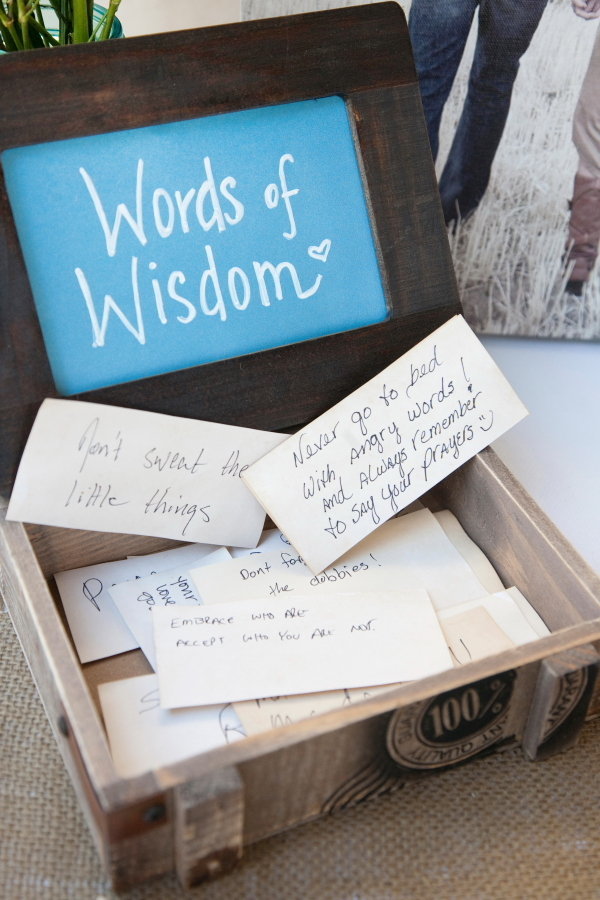 Another great idea is an advice box. This is a particularly good idea if the graduate has lots of older relatives, trusted mentors, and favorite teachers who have the wisdom to share on taking those first big steps in life after high school.
5.) A Clever Place to Stash Money Cards
It's only natural for friends and family to lavish the graduate with cash, checks, and cards honoring their accomplishments. But where will you put all those money cards?
Instead of letting the cards accumulate and clutter up your graduation party decor, consider creating a clever little box like the one above. Doesn't it fit it great with your graduation party theme?
6.) Graduation Themed Treats
Food and drinks are probably at the top of your mind at a graduation party. But to make the graduation grub special, consider adding a fun, graduation-themed treat. The adorable chocolate graduation cap pops below feature crowd-pleasing ingredients, like mini peanut butter cups, chocolate squares, and other favorite candies (The iSaveAtoZ blog has the recipe here).
If you need an even easier idea, take Pirouette cookies and tie a ribbon around them in school colors to make themed "diploma cookies." You can check out the Love The Day blog to see how this amazing idea fits in within a graduation-themed dessert table.
7.) Unique Door Decor for the Grad
If you're hosting a graduation party at your home, it's easy to get so focused on decorating the inside of your home for the grad that you forget outdoor graduation decor entirely. We recommend sprucing up the entry to the party with a little graduation door decor.
2021 Graduation Party Door Sign from Amazon.com
We also love the DIY photo graduation wreath above featured on DIY Beautify that uses heavy black cardstock, hot glue, and lots of photos of the graduate! You can get the full tutorial here.
8.) Custom Graduation Party Banner
Speaking of outdoor graduation decor, a custom graduation party banner is a great way to let friends and family know where the party is!
Fancy Faux Glitter Monogram Graduation Banner from PurpleTrail.com
With PurpleTrail, you can easily design your own graduation party banner online by uploading your own photos and choosing your favorite fonts, colors, and graphics.  
9.) Graduation Party Favors
Don't forget to send your graduate's guests home with a small favor from the graduation party. While not required, graduation party favors are a courtesy, considering many guests will be giving generous cash gifts to the grad. PurpleTrail offers custom graduation mugs that make for perfect take-home gifts for family and friends.
Gray and Red Graduation Mug from Purpletrail.com
We love the Dr. Seuss-themed DIY below that features chocolate globes in little cellophane favor bags. You can get the tutorial (and free printables for the favor bags!) over on the A Little CLAIREification blog.
10.) Graduation Balloons
Last but not least, what's a party without lots of balloons? Regular balloons will do the trick, but consider adding some specialty balloons as well, such as the gold CCGGAD 2021 balloons available on Amazon. These eye-catching balloons can serve as an anchor to the rest of your graduation party decor.
CCGGAD 2021 Balloons from Amazon.com
We hope these graduation party ideas inspire you to plan a memorable celebration for your grad. After all, beauty is often in the details!
(Visited 14,090 times, 1 visits today)