If a friend or family member has recently passed away, it's only natural to want to honor them in a special way. Funerals and funeral receptions are great outlets for honoring the memory of the deceased. Here are eight funeral reception ideas you might consider:
1.) Serve Your Loved One's Favorite Food
Those who were closest to the deceased will know all too well what their favorite food was. Maybe it was a specific dish, like Salisbury steak and mashed potatoes. Or maybe it was a certain style of food, like Cajun, Mexican or Greek food. Or perhaps the person who passed away had a favorite dessert or wine.
Whatever food or treat it was, a great way to honor a loved one's memory is by serving that food at the funeral reception. You can even leave one seat at the reception empty in their honor, and create a special ambiance by playing their favorite music or simply music from their generation.
2.) Provide a Unique Funeral Guest Book
In the hustle and bustle of preparing for a funeral and reception, funeral guest books are often overlooked. However, a personalized funeral guest book is a beautiful memento from your loved one's funeral that you will treasure long after the funeral has passed. Custom funeral guest books can feature a photo of your loved one who has died, as well as their favorite colors or favorite quotes.
Pink Peony Funeral Guest Book from PurpleTrailA custom funeral guest book is a great place for friends and family of the deceased to share memories, leave sincere words of sympathy, or simply sign their name so you can remember years later that they were present at your loved one's funeral.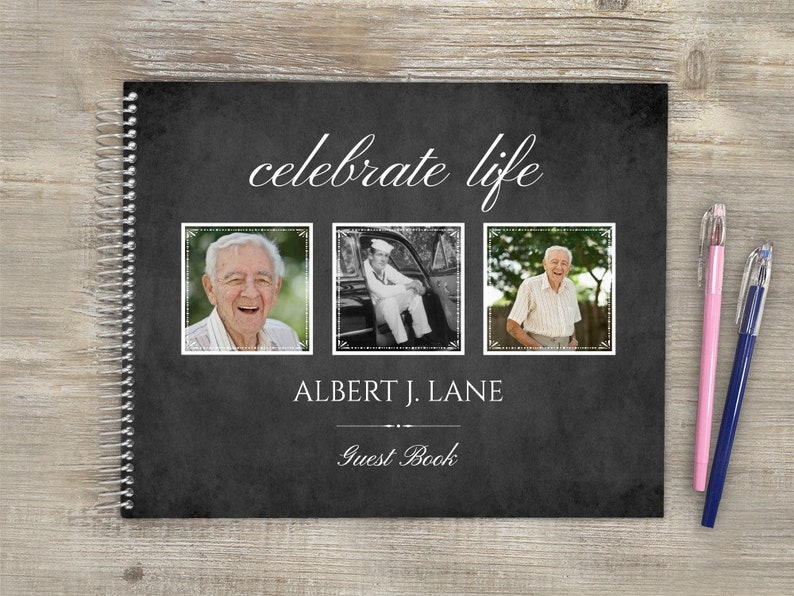 Black Elegant Photo Frames Funeral Guest Book from PurpleTrail
3.) Give Guests a Funeral Favor That Grows New Life
Funerals often lead people to ponder death and their own mortality. That's why it's so important to offer symbols of life at the funeral reception. One of our favorite ideas is offering young trees as funeral favors to your guests. Those who loved the deceased can take one home and plant it in their backyard or another location that has special meaning to them. As the tree grows, they can reflect on the person who has died, yet still lives on in their heart.
Another option is to give away seeds as funeral favors for guests. We love the idea of offering beautiful packets of forget-me-nots that will grow into lovely reminders to never forget the good times friends and family had with the deceased. Forget-me-nots not only grow stunning flowers, but they are easy to grow, as they can be started indoors or out and can be easily moved into a garden.
4.) Decorate with a Memory Tree Set up in Their Honor
Memory trees are miniature, decorative trees with lots of small branches where friends and family can hang memories. The idea is to provide paper tags where you and reception guests can jot down memories and then hang the memory tag from one of the tree's bare branches, similar to the wishing tree example below featured on the Signature K Events blog. Real or artificial manzanita branches are the most common trees used for memory trees.
Although it is possible to use found branches and create your own memory tree, store-bought branches often have more appealing, symmetrical shapes and the capacity to hold a larger number of written memories.
5.) Showcase a Memorabilia Table
The story of the deceased is most easily told through the things they kept and treasured in their homes. That's why a memorabilia table at the funeral reception is such a great idea.
You can take funeral reception guests down memory lane by laying out your loved one's military service medals, treasured collections of coins or hats, the golf clubs or fishing rods that represented their favorite pastime, and other items that reveal who the deceased was and what they enjoyed most in life.
6.) Have a Cardboard Cut-Out of Your Loved One in their Prime
A more unconventional means of memorializing a loved one who has passed away is to arrange to have a life-sized cardboard cut-out made to stand in at the funeral reception. An article in the Telegraph explained how a woman had a cardboard cutout made of her late husband and ended up keeping the cut-out as a beloved memento in her home.
Companies that print cardboard cutouts will require a high-resolution photo of the deceased. Consider using a photo of your loved one when they were in good health and in the prime of their life.
7.) Offer Memorial Cards to Guests
Memorial cards are typically used during a funeral service to guide guests through the various parts of the service, such as the reading of the eulogy, musical selections, the funeral sermon, open viewing times, etc.
                                                                                                                 Faux Foil Diamond Greenery Frame Memorial Card from PurpleTrail
However, you can also use memorial cards to tell the story of the deceased, share photos and vignettes from different seasons of their life, and share beloved quotes or scripture verses. Custom memorial cards are a great way to capture your favorite memories within one or more pages and share them with guests.
8.) Release Floating Paper Lanterns at the End
Releasing floating paper lanterns, also called sky lanterns, is a great way to memorialize a lost loved one, celebrate their life, and express grief. The release of floating lanterns was popularized by the traditional lantern festivals held in China, Taiwan, and Thailand. 
The beauty of the lit lanterns against an evening sky and the gentle way they float away will remind you of the beauty and transience of life. Guests often find floating lantern releases to be peaceful, healing, and cathartic. No matter how much you miss your loved one, releasing paper lanterns and admiring their beauty has a way of making you feel warm inside.
We hope these funeral reception ideas inspire you to plan a memorable occasion for the guests who will be celebrating the life of the deceased along with you.
(Visited 11,661 times, 7 visits today)