Stickers are a great tool when it comes to planning. Not only are they an effective way to organize due dates and reminders, but they're also fun! Here at PurpleTrail, we love to marry functionality and style, which is why we've created an impressive collection of stickers to fit any type of planner need. Whether you prefer simple and efficient or colorful and cute, PurpleTrail has the perfect sticker sets for any sticker enthusiast. Keep reading to learn all about the different stickers PurpleTrail offers!
Custom Stickers
Searching for a way to enhance your planner? Look no further than PurpleTrail Custom Stickers! Personalized to perfection, PurpleTrail Custom Stickers are not only fun but also functional! Printed in vibrant, bright colors on an easy to write on matte finish, custom stickers are a surefire way to bring your organization game to the next level.
Custom Sticker Uses
With a wide variety of styles and shapes to choose from – all with the ability to edit text – PurpleTrail Custom Stickers are an efficient planning tool for any lifestyle or profession!
Have a busy school year ahead of you? Make the grade with a custom sticker set designed to keep your classroom or student life organized.
Hoping to keep up your new fitness routine? Create labels that represent your unique workout plan!

Simply need reminders for chores and appointments? Edit a cute set of stickers to help stay on top of your to-do lists (as well as decorate your planner pages)!

Staying busy as a real estate agent or broker? A custom set of stickers can help you keep track of showings, signings, and more!
Do strict diets or picky eaters make meal prep a difficult chore? Plan ahead with a set of stickers featuring tried and true favorites or new healthy options!
Whether you're planning with just you and your family in mind or need to keep work meetings and projects organized, PurpleTrail Custom Stickers are both fun and handy with endless possibilities – create the labels that fit your unique needs!
How to Customize
Creating your very own sheet of personalized stickers is fast and simple to do! Find your preferred sticker design at PurpleTrail.com, click "personalize," then edit the text and save.
It's that easy! Now you have one-of-a-kind stickers for your one-of-a-kind lifestyle.
Classic Stickers

Aside from custom stickers, PurpleTrail also offers a broad selection of ready-to-ship stickers! From organizational themes for weddings, traveling, hairstylists, and more to utterly delightful designs featuring lovable lamas, bright beach motifs, and watercolor witchcraft.
Sticker Book
Love keeping your planner and accessories with you on the go? Check out the all-new PurpleTrail Planner Sticker Book! 
Including 18 pages filled to the brim with over 1000 stickers, the PurpleTrail Planner Sticker Book is the perfect planner companion! In a compact 5"x7" size, it makes planning on the go super easy and fun. From inspirational quotes and seasonal designs to wellness trackers, flags, and labels, the PurpleTrail Planner Sticker Book is guaranteed to have the ideal stickers for your planning style.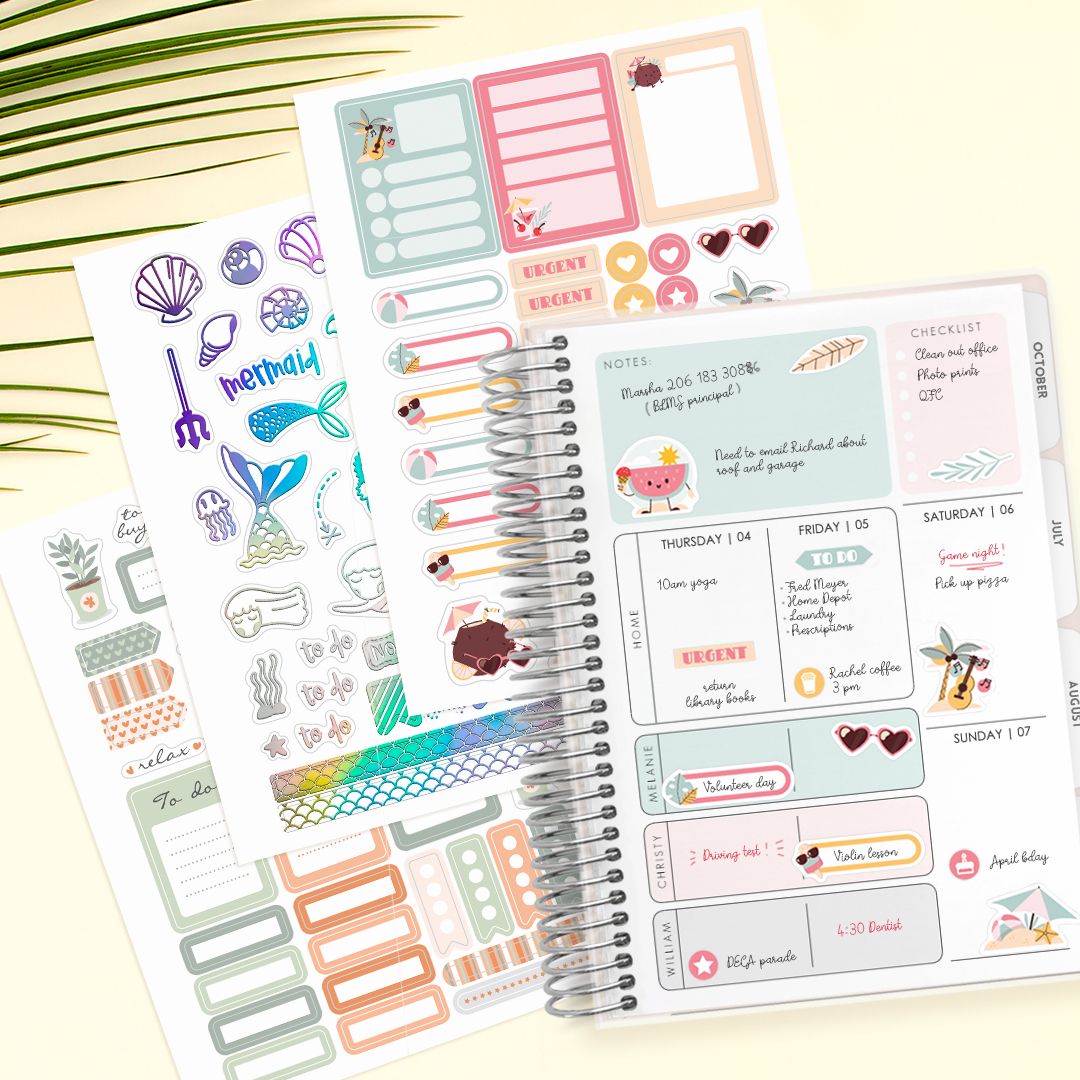 Check out purpletrail.com to browse our ever-growing collection of stickers today!
(Visited 177 times, 1 visits today)