Make your Christmas stationery extra special this year with the help of these 10 amazing customizable Christmas Card Templates. From interesting card cuts to dazzling embellishments and coordinating stationery pieces — this list of templates will inspire you to create truly original Christmas stationery that your friends and family will love and cherish.
1) PurpleTrail's Multi-Page Christmas Booklet Cards
Don't you hate inscribing your Christmas cards with teeny tiny print — only to find you're out of space before you're halfway through your wording? We hear you, and that's why we've designed spacious and stylish 8 page Christmas booklet cards.
Never worry about running out space or straining your loved one's eyes again! Our Christmas booklet cards will provide you with all the space you need for family photos and your heartfelt holiday message.
Enjoy adding as many photos as you like and a long, loving holiday message to one of our beautiful designs today!
If 8 pages is too much for you, we also have a number of fabulous tri-fold (6 paged) and folded (4 paged) card designs to choose from as well.
2) Folded Card Christmas Card Templates
Classic, timeless, and presents itself nicely on a mantle. The folded cards are an elegant and heartfelt way to display a picture and handwritten note.
On this particular design, your family's name and the year are in white inside the border. Easily personalize, then send to loved ones!
3) Glitter Inspired Christmas Card Templates
Make your favorite Christmas photo shine upon one of our beautiful glitter-inspired Christmas photo cards. Our unique faux glitter cards offer all the glam and polish of genuine glitter cards — without the mess.
Take a look at the cute Christmas glitter card above to see why we are in love with these brilliant new card designs.
4) Christmas Ornament Cards & Die Cut Cards
Consider sending your friends and family a uniquely cut Christmas card. We have cards that come in heart, square, and circle cuts. These die-cut cards are super cute and original. We have a plethora of designs to choose from, and if you want to make your die-cut card even more interesting — we can turn your die-cut card into an ornament card.
We will simply punch a hole at the top of your cards and include white satin ribbons (for you to tie) for each card. Friends and family will enjoy decorating their trees with your beautiful season's greetings. Check out some of the charming Christmas ornament cards below to see if this cute Christmas card idea is right for you!
5) Long & Skinny Christmas Card Templates
In addition to die cut cards — we also have a lovely assortment of long and skinny cards. Our unique long and skinny card designs will provide you with more space than a traditional 5 x 7 card.
This special cut is also very attractive. It will be sure to capture the recipients' eye and stand apart from the rest of their holiday greetings.
6) Fun Photo Cards Templates
Photo cards are all the rage at the moment and we are all about this rising trend. You'll find an outstanding collection of Christmas photo card templates on our website. Friends and family will truly enjoy receiving your photo upon a quality card you helped design.
We offer amazing customization options and a great design center (where you can personalize cards with your choice of colors, fonts, wording, embellishments and more) so you can make a card that is a true reflection of your own personal taste and style.
7) Bold Graphic Design
If you can't seem to find a photo that is just right for your holiday cards, or maybe you're simply not very photogenic, consider opting for one of our beautiful and bold typography-centric holiday cards.
Our collection features an array of colorful and festive designs with modern layouts, captivating lettering, and truly gorgeous graphics. Although your friends and family will not have a photo keepsake (as they would with a holiday photo card), they will enjoy a gracefully designed holiday card just as well.
8) Faux Foil Christmas Card Templates
Our silver and gold faux foil Christmas photo cards will make your favorite photos sparkle and shine. The faux foil cards have gorgeous highlights and metallic textures that give them a shimmering, brilliant metal-like appearance. Check out the stunning foil-inspired Christmas card below and you'll see why this Christmas card template made the list.
9) Christmas Letter Templates
Send a customizable Christmas letter along with your holiday cards this year. We have a ton of gorgeous Christmas card templates to choose from. With designs ranging from modern, bright, and playful to rustic, vintage, and traditional — we have a Christmas letter template for every taste and personality.
10) Matching Envelopes & Holiday Address Labels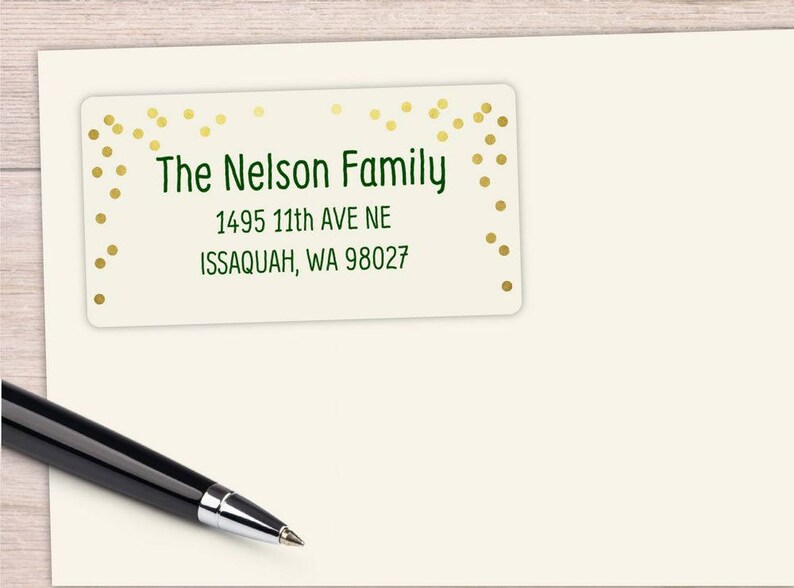 Yep — the final item on the list isn't a Christmas card template. This isn't holding very true to our title, but envelopes and address labels are really the icing on the cake when it comes to holiday stationery. They will take your Christmas stationery up a level and give it a polished,  thorough look your friends and family will love.
So, consider completing your holiday stationery with matching envelopes or address labels. We have a wide range of stationery sets. Check them out here — or create your very own matching set of stationery from scratch! Whichever method you choose, friends and family will adore your coordinating cards, invites, and envelopes!
Paper Choices
Although this isn't a Christmas card template, we are adding it to the list anyway — because great paper will make your Christmas cards extraordinary!
PurpleTrail offers several different paper options: triple thick, pearlescent, uncoated, and coated. Let us print your Christmas card on coated paper (at no additional cost) and it will give your custom Christmas card a glossy finish. Print your card on uncoated paper and it will have no sheen but will be easy to write on — perfect for someone who's planning on inscribing their cards by hand.
Pay a little bit extra and we'll print your Christmas cards on triple thick or pearlescent paper. These specialty papers will really make your cards look and feel amazing. Our triple-thick paper is nearly unbendable and our pearlescent option will give your cards an elegant shimmer finish.
We also offer the following paper choices for envelopes: recycled kraft envelopes or standard white envelopes. Choose whichever you think will fit your stationery. We love providing our customers with as many options as possible so they can create stationery that is as unique as they are.
Happy Holidays!
Hopefully, these 10 Christmas card template ideas give you the inspiration you need to send your friends and family Christmas stationery they will love and cherish. If you're planning on including photos in your cards this year, make sure to take a look at our Christmas Photo Ideas and 5 DIY Photo Backdrops articles! Good luck with putting your stationery together and happy holidays!
(Visited 623 times, 1 visits today)