Looking for something special for your employees as a holiday gift that will make them feel special all year long? Look no further, as we've put together a list of 10 employee gift ideas that they'll love. They'll love it and you'll look (and feel!) like an awesome boss. So, let's get started so you can get shopping!
Your employees deserve appreciation for their hard work and the holidays are the perfect time to show it. A thoughtful gift goes a long way to make employees feel appreciated and recognized for their hard work all year long. But finding just the right gift is harder than it seems. There are a lot of tricky nuances to navigate when trying to find the perfect holiday gifts for employees. Before you start shopping, review these tricky areas.
The most important recommendation is to know your staff. Who are they and how do they celebrate special occasions or holidays. This will help guide you to the perfect gift. You won't have to worry about the pitfalls below.
Things to remember to give a great employee holiday gift this year.
Cultural and religious significance. Today's modern workplace is a mixture of cultures, religions and interests. If you're in charge of your company's holiday gift giving, make sure what you choose won't inadvertently offend or insult employees. The age-old tradition of giving a steak or turkey might offend someone of a particular religion that doesn't eat meat. Those who are on a diet or diabetic might not appreciate a box of chocolate or candy. Those are some of the things you might consider when picking a holiday gift for your employees.
Allergies. Allergy concerns are another area of particularly for food items. Nut allergies can be deadly and traces of the allergen can be found cookies, pastries, chocolate and more. If you do want to purchase candy, make sure to double-check that they are nut-free and not processed in a plant that processes nuts.
Make it Equitable. If you're responsible for employee holiday gifts, make sure to give all the employees, at least at the same level, the same or equivalent gifts. You don't want to play favorites at the holidays.
Something they can use. Practicality is important. No one wants another drink cozy with the company logo on it. With today's eco-friendly environment, give them something they need or will use on a regular basis rather than simply filling up landfills with useless, cheap promotional items.
Ethics. Make sure to check the company policy regarding gifts in the workplace. Some companies have specific policies in place governing who can or can't receive gifts of any kind and sometimes monetary limit. The general rule of thumb for corporate gift-giving is to give down (to subordinates and those who work for you) rather than up (your boss and their manager).
Don't bring sexy back. Remember to be tasteful. What seems like fun at the moment you hit the purchase, may end up being offensive to some. Play it safe and leave that type of gift exchange out of the office.
Here is a list of our 10 favorite employee gift ideas.
Employee Gift Ideas: #1 – Grocery or Visa Gift Cards
One way to provide a holiday meal for your employees without having to know food preferences and allergies is to give a grocery gift card. They can pick out their favorite holiday dishes for their family and save some money during the holiday season. Another easy way to give the gift of groceries, or simply just help with general holiday expenses is a Visa gift card. One of our favorite ideas is to create your own gift card using an employee photo or your corporate logo.
Employee Gift Ideas: #2 – An Experience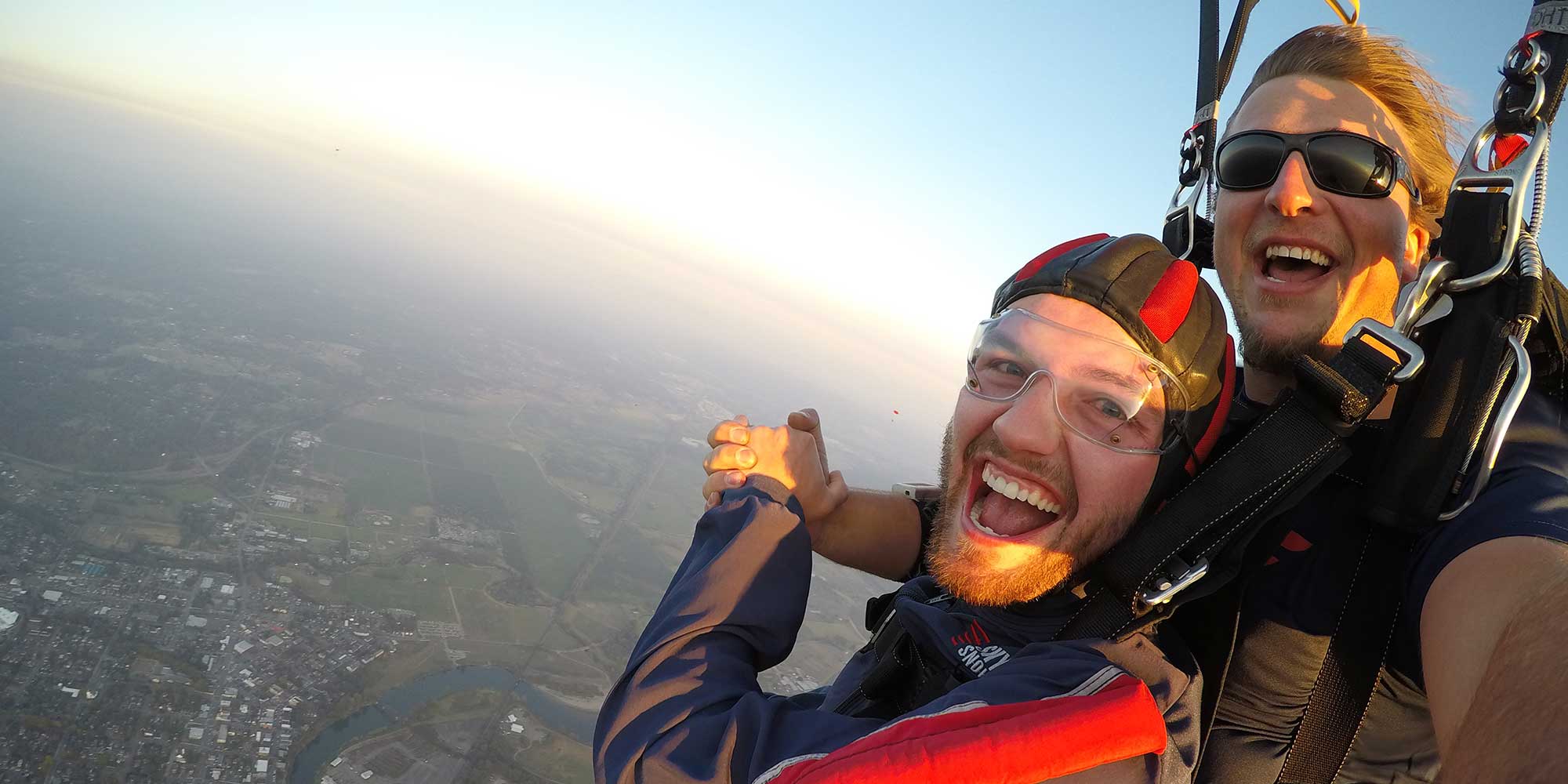 Photo courtesy of Skydive Snohomish.Experiential gifts – or those that provide an experience for the employee – are one of the memorable gifts you can give for the holidays. The key to experiential gifts is to weigh your employees' interests and abilities. Not everyone would enjoy sky diving or swim with the dolphins, but things like cooking lessons, spa services or art classes are popular with most employees. Take advantage of creative opportunities to wrap these gifts – a mixology session with a pretty pair of highball glasses or a cooking class with a monogrammed chef's coat.
Employee Gift Ideas: #3 – A Donation on their Behalf
Altruistic employees would enjoy a donation that involves charitable giving. Tisbest and companies like it offer a gift card that allows the recipient to direct funds to one of 250+ national and local charities. You can even create your own card design that includes your company's branding and messaging. A gift that feeds a child, protects endangered species or cleans water to a remote village is a gift that says something about your company's values and engages the recipient in the giving process.
Employee Gift Ideas: #4 – Spa Gift Card
A gift card for a massage or spa service will help your employees emerge feeling like a new person. And, by being happier and healthier they'll also be more productive in the office. Self-care is a critical part of well being and by giving employees the opportunity to focus on this, they can better serve themselves and others.
Employee Gift Ideas: #5 – The Gift of Organization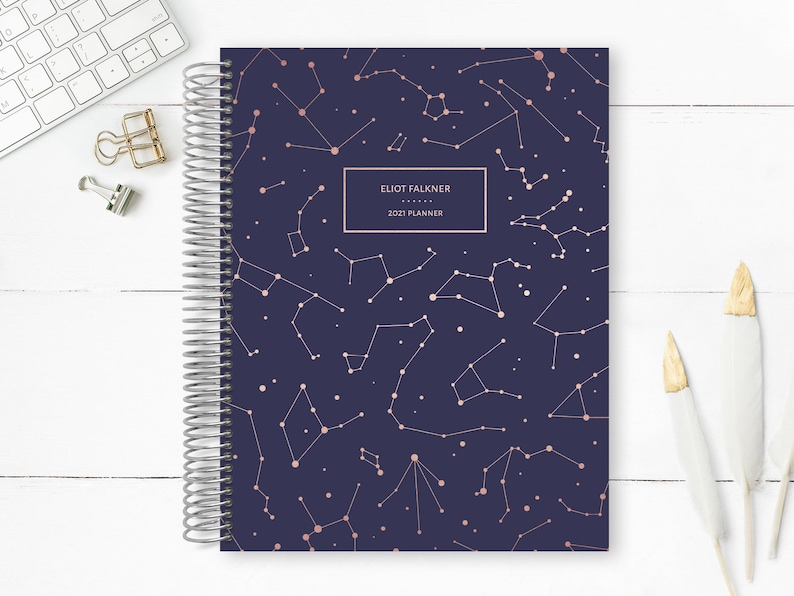 Photo courtesy of PurpleTrail.
Giving your employees a personalized planner is another way you can reward them for their hard work and also help them to be more efficient and productive. Organizational experts agree that planning and making a conscious choice about how to use time is the key to success in the workplace. PurpleTrail planners can be completely customized with your company logo or an employee's name. Or give them a PurpleTrail gift card and they can design their very own!
Employee Gift Ideas: #6 – Personalized Stationery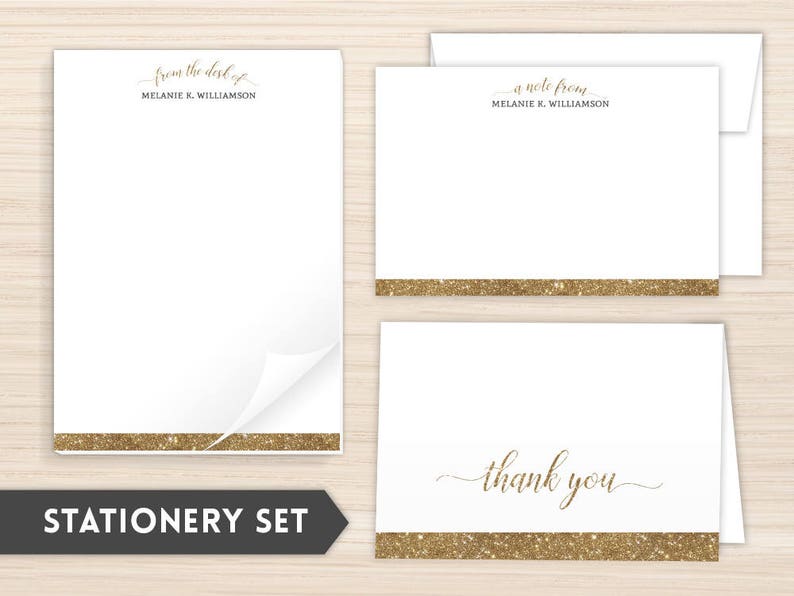 Photo courtesy of Purpletrail.
Stylish custom stationery presents a polished look and feel when employees correspond with customers and clients. Add your corporate logo with the initials or name of the employee to give a professional presentation to notecards, notepads, or cards.
Employee Gift Ideas: #7 – Electronics
Feeling generous? The latest electronic gadget will certainly thrill your employees. Nothing says "job well done" like handing out gifts of the latest iPad, Apple Watch or laptop. Some manufacturers also offer ways to personalize or engrave electronics making it a special and unique memento.
Employee Gift Ideas: #8 – A Gift Basket
While a gift basket might sound like a boring gift of sausage and cheese, the presentation of gifts nicely arranged in a basket gives it an instant wow factor. Any of the gifts we've mentioned – including gift cards – would look great arranged and packaged with similar and complementary items. Think a sports jersey carefully rolled with game tickets or an embroidered and personalized chef's coat with a gift certificate for cooking classes.
                                                                                                                                                     Photo courtesy of Amazon.com/Gift Basket Village
Employee Gift Ideas: #9 – Entertainment
Tickets to a local theatre, performance or sporting event are always popular with employees. Some venues offer gift cards to performances at their location to be scheduled and redeemed at the desired date. Plays and shows around the holidays are always appreciated – especially if you're providing time off to attend. Don't forget to include tickets for family members or friends to attend with them!
Employee Gifts Ideas: #10 – Bonuses & PTO
To be honest, the most appreciated employee gift is added money in their paycheck. However, not all companies are in a position to give this gift. Another close favorite is time off from work. An additional day of PTO is a bonus they'll take advantage of sometime during the year and for which they'll be very appreciative.
What will employee gift will your company be giving this year?
(Visited 188 times, 1 visits today)